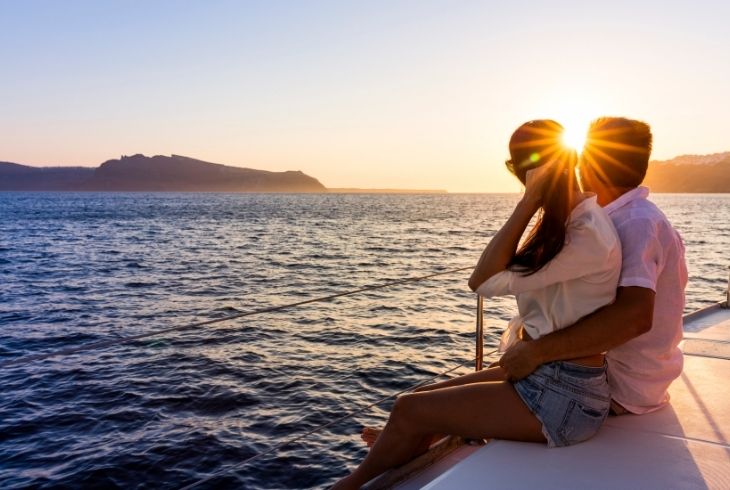 Jun 07th, 2021
5 Santorini Sailing Tours You Don't Want to Leave the Island Without Trying
Besides the standard walking and hiking tours, a great way to explore Santorini is by opting for one of the many Santorini sailing tours. Besides captivating panoramas and seascapes, you also get to view hidden treasures not easily accessible by most visitors and the island's unique morphology as a whole. Plus, you can plan out your tour so that it combines several activities, like, for example, an island-hopping escapade or a romantic dinner amidst the serene waters of the Aegean Sea.
Below is a brief guide to help you organize your dream Santorini sailing tours and live unforgettable adventures when visiting the Queen of the Cyclades.
Starting with the imposing Caldera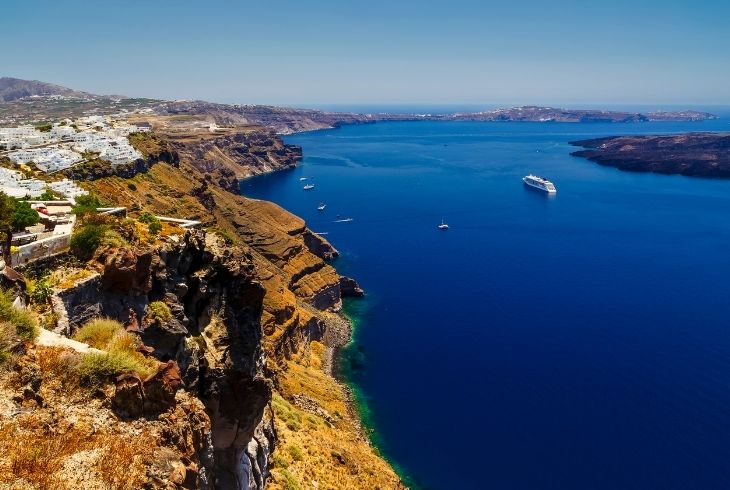 The majority of Santorini sailing tours ensure you get at least a good look at the famous Caldera. The volcanic crater that once shook the island, transforming the landscape from top to bottom with its vivid activity, is now a wonderful sight. Somewhat eerie and definitely awe-inspiring, the Caldera is a great starting point for a memorable sea journey, regardless of how short or long. From there, you can set sails for several different landmarks, including the Hot Spring and the volcanic islands of Palea Kameni and Nea Kameni.
Heading to the healing thermal baths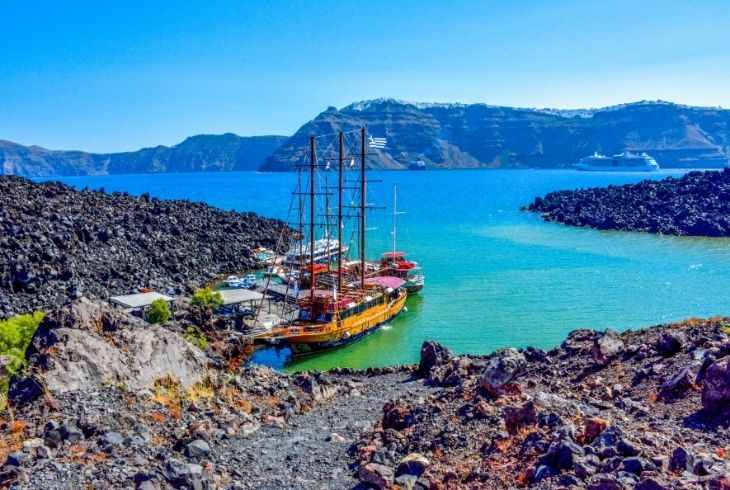 The Santorini Hot Spring is not far from the Caldera. Feel free to dive into the sulfur-rich waters of this remarkable natural thermal bath and emerge a different person. Many people claim that the Hot Spring has therapeutic properties, improving the condition of those suffering from arthritis and other similar bone-related problems. Even if this is not your case, you can still try this delight and watch your body express its gratitude in all the possible ways! As for people not into the sulfur smell, the charming beach of Agios Nikolas nearby is a superb alternative while visiting the famous Santorini location.
Moving on to a beach tour
If you are a beach person and would instead prefer to discover remote shores, then one of the Santorini sailing tours around the Santorini beaches will be just perfect. That way, you will have the chance to see the famous Red, Black, and White beaches of Santorini.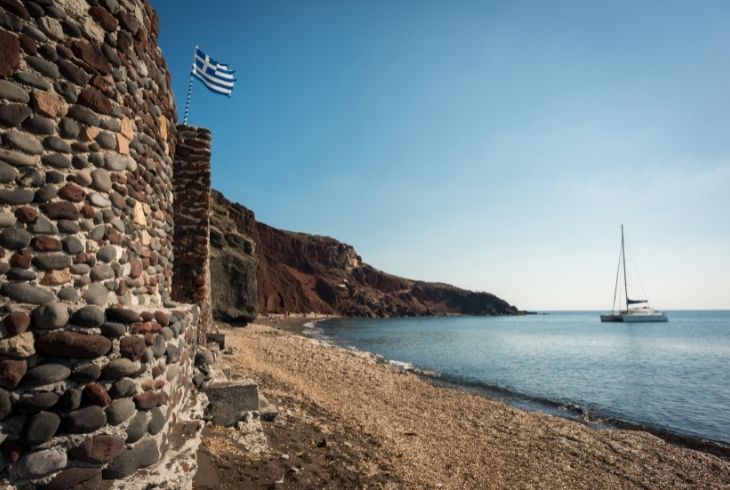 This means laying eyes on sceneries composed of a sandy seabed and volcanic lava formations. Also, depending on the shore you visit, you may be pampered with tourist facilities like restaurants, tavernas, bars, and clubs, as well as water sports amenities.
The most visited (and certainly one of the largest and most beautiful) beach is Perissa (aka Black Beach), which is within an arm's reach from your Santorini luxury hotel, Antoperla. Expect a fully organised shore with crystalline waters (awarded a Blue Flag Award), diving centres, a beach volley area, and water sports facilities so you and your loved ones can have a fun break from your excursion. If you can, make sure you visit Perissa after sunset. The main attraction is the huge rock called Mesa Vouno that glows in the dark, creating a stunning sight.
Other than Perissa, the Red Beach near the archaeological site of Akrotiri, Kamari, Perivolos, Vlychada, Cape Columbo, Monolithos, and Agios Georgios are must-visit shores.
Exploring the underwater Santorini cosmos
Snorkeling in Santorini, as well as scuba diving, are fascinating ways to give yourself the opportunity to see underwater sea formations created by the magnificence of nature's powers (intense volcanic activity in this case). From shipwrecks to submarine caves housing schools of fish, you have lots to anticipate when diving below the surface of the Mediterranean Sea.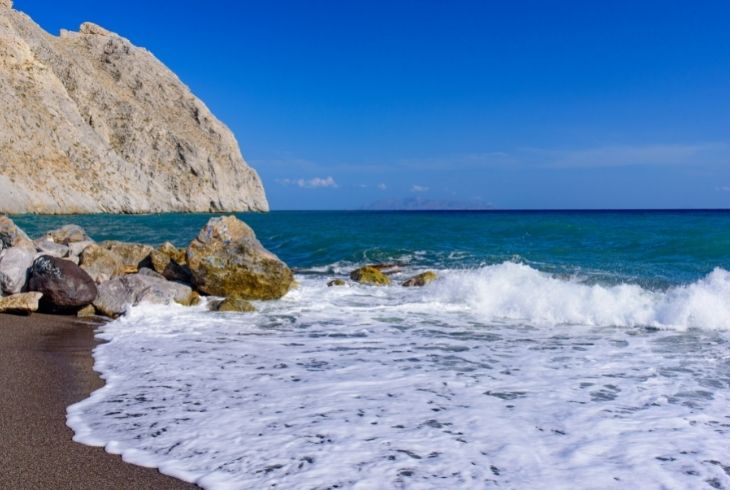 Some great dive sites are Faros Reef, just a bit further from the Caldera (excellent for beginners), Perissa Rock (which is only a few metres from the elegant Antoperla Santorini suites), the Caves Lagoon, and the Nea Kameni island. What a fab way to spend the day cruising around the island and dropping anchor amidst the archipelago to get a taste of absolutely mind-blowing isolated coves and other wonders adorning Santorini's crown!
Santorini sunset tours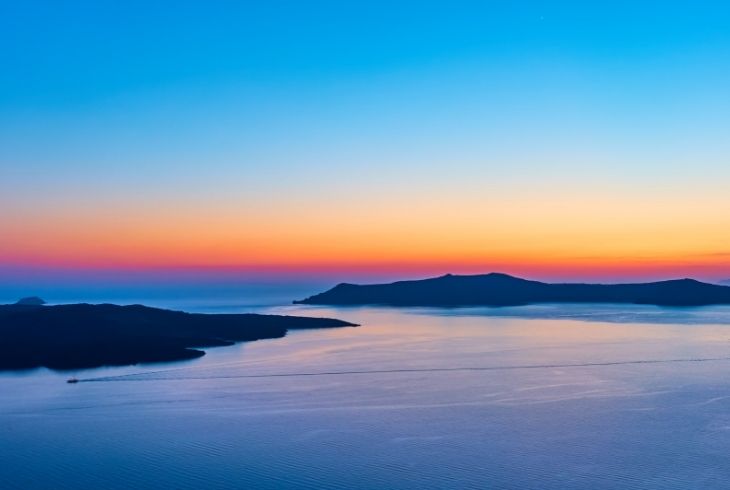 This is one of the most popular options among newlyweds having a Santorini, Greece honeymoon. Besides a wine-tasting tour, a cruise in the Aegean just before the sun slips behind the horizon is magical. Shades of gold, orange, red, and yellow swirl in the air painting the glistering waters of the sea and creating an utterly romantic atmosphere.
You may even opt for Santorini sailing tours that feature an idyllic dinner for two aboard the ship and enjoy precious moments with your life partner. Or you can mix romance with night entertainment and visit clubs and bars of nearby Cyclades islands!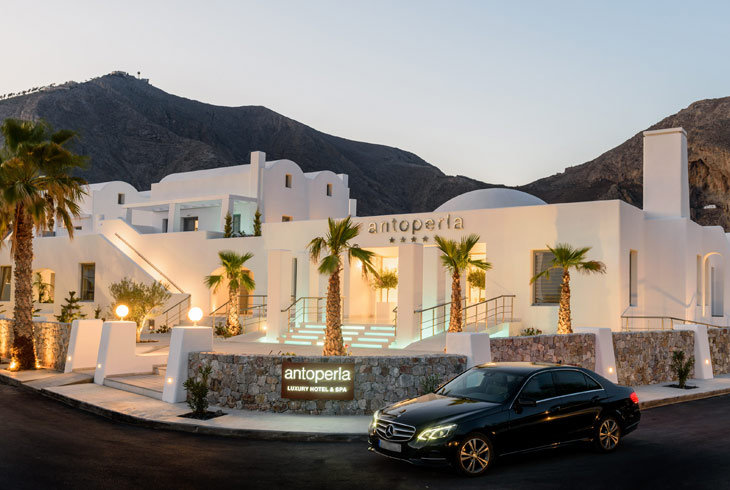 So, if you are tired of lounging and sunbathing at Santorini hotels with a private pool like Antoperla (if this is even an option!), don't hesitate to hop on a yacht, catamaran or cruiser and spend the rest of the day filling up with experiences very few will even have the chance to live on this planet!