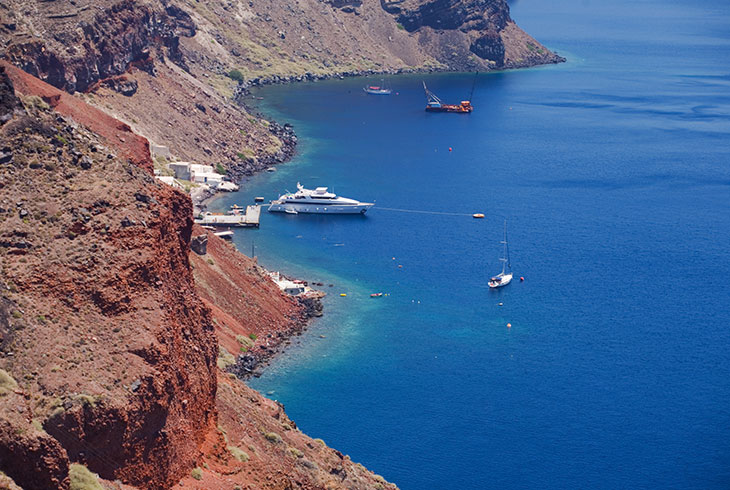 Mar 30th, 2018
The Luxury of Private or Semi-Private Guided Tours in Santorini, Greece
A vacation in Santorini, Greece is appealing for many reasons. The gorgeous sunsets over the Aegean Sea or the breathtaking caldera are one-of-a-kind. Sunbathing or enjoying the waters of the black sand beaches. There's exciting nightlife, excellent Greek and Mediterranean cuisine, and intimate hotels that make you feel like royalty. What's not so appealing about Santorini vacations? The crowds.
Few things put more of a damper on a summer vacation with your family or sweetheart than being crammed into a boat or perch with dozens or hundreds of other people. That's why visitors searching for a more private, luxurious experience often opt for private or semi-private guided tours. These tours allow you to see all the sights you hoped to see with the one you love — or even as a solo experience — without all the distractions of crowds of other tourists. And there are a wide variety of private or semi-private tours to choose from.
On Land Tours
Not all private or semi-private tours are Santorini cruises. There are still plenty of destinations to be seen on land. The ancient ruins of Akrotiri is a popular destination for private guided tours.
The city, encapsulated in volcanic ash during a Minoan era eruption, has been excavated and can now be explored by tourists of the twenty-first century. You can also take a guided tour to some of the medieval castles throughout Santorini, like castle Emporio.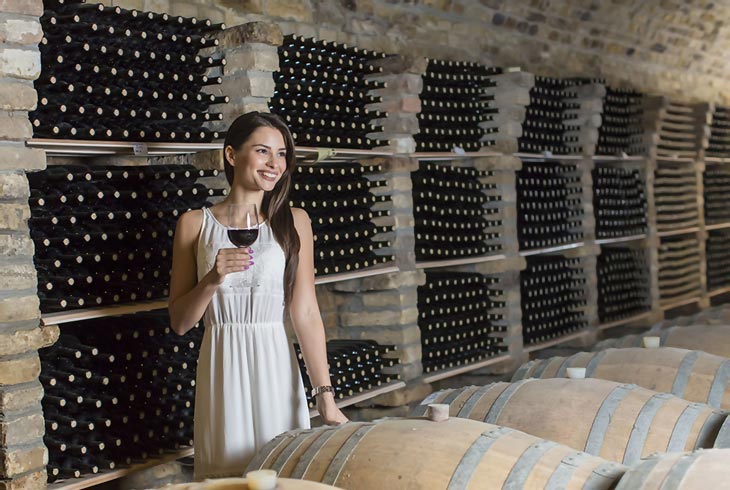 You can also attend one of Santorini's many private winery tours. Santorini is famous for its wine, and there are a number of beautiful wineries further inland. Through these tours, you can traverse the winery with a small group, seeing the vineyards and how the wine is made, and end with a delicious tasting as you overlook the landscape.
Finally, you could attend a "beyond tourism" private tour. These tours are designed to take visitors beyond all the usual tourist attractions in villages like Oia and Fira and instead show them daily life in Santorini, Greece, often untouched by tourism. These tours allow you to talk to locals and experience the day-to-day life in Santorini as if you were a local yourself.
Santorini Cruises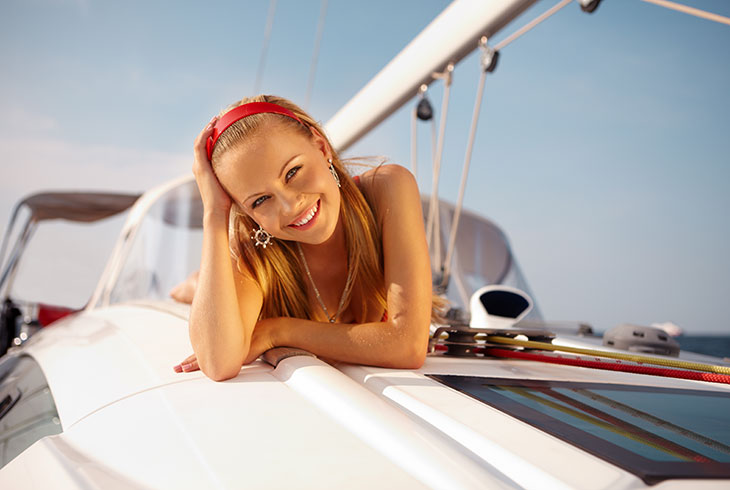 Santorini's position surrounded by the Aegean Sea makes it perfect for Santorini cruises, and there are a number of private or semi-private Santorini cruises by yacht. From the main port of Athinios, you can ferry out to the boat and sail to various renowned Santorini destinations. You can take a tour of the caldera so that you can see its beauty in full and even find a few places for snorkeling along the way. See how the sight of the caldera inspired Plato to create the allegory of Atlantis.
You can also visit nearby islands. Sail to Nea Kameni, a smile island formed over millennia from dacite lava and volcanic ash. See the volcanic hot springs and on the way, stop by the oldest volcano in the area, Palea Kameni. Visit Thirassia, once a part of Santorini but separated by volcanic eruptions. Today it's home to a mere 150 residents, several churches, and a delicious wood oven bakery. These smaller islands are an essential part of any Santorini vacation, and it's even better to see them with a private tour away from throngs of other tourists.
Some of the most beautiful scenery can be found through a Santorini sunset cruise. A Santorini sunset cruise offers the whole experience. You'll be able to see the hot springs and Thirassia, take pictures of the caldera, and sample fine wine before ending the day with a gorgeous view of the sunset. Santorini sunsets are famously the most beautiful sunsets in the world, and on a private cruise, you'll have it all to yourself.
Photography Tours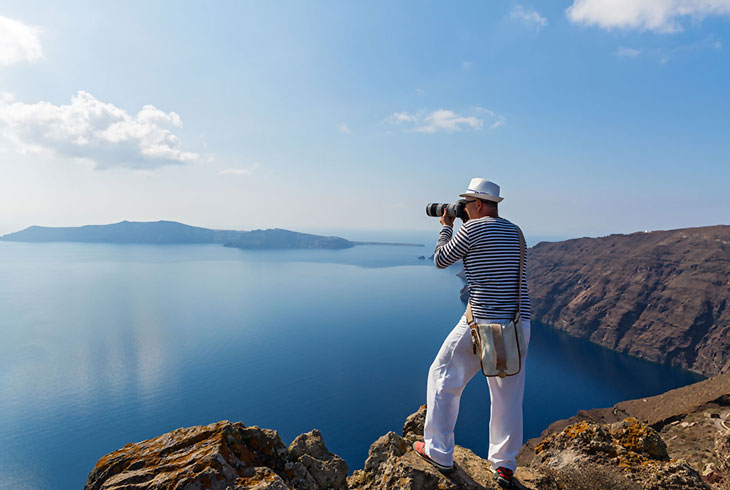 One of the most important parts of any vacation is the pictures you can take home with you. You want these pictures to capture all the beauty you saw and the thrill of the experience. You don't want them to be interrupted by crowds of strangers you don't know. Instead, take a private or semi-private photography tour. The best part about these tours is that you don't have to take the pictures yourself — instead, you're part of them. A photographer with the tourism company will meet with you the day before to discuss your vision. Then they'll create a tour itinerary to get the best schedule and setting for your pictures.
You can tour the countryside and have high quality pictures taken, whether they be engagement photos, honeymoon photos, or simply a portrait to remember your vacation. Have pictures taken perched on a balcony of one of the famous blue-domed churches, or walking hand-in-hand through Imerovigli village. These aren't just tours to experience. These are tours to remember.
Booking Your Private or Semi-Private Guided Tour
Private or semi-private guided tours are highly coveted, so it's best to book them as early as possible. One of the surest ways to book a private tour is with the help of your hotel. Some Santorini luxury hotels, like Antoperla, coordinate with private tours to organize them for their guests. Book your room at your hotel and then let them know what sort of private tour you'd like to take. They'll take it from there.
Where to Stay
If you're looking for luxury in Santorini, then Perissa, Santorini is an excellent option. Not only is it within easy reach of one of the most popular black sand beaches on the island and terrific views, but also excellent luxury hotels. Looking for Santorini hotels with a private pool? Antoperla Luxury Hotel & Spa offers not just Santorini rooms with a private pool but also rooms or suites with a private jacuzzi.
After a day of touring the island, you can enjoy exquisite privacy and comfort in one of our luxury rooms. And of course, we're happy to organize your private tours for you, so all you have to do is enjoy. If you're looking for royal treatment in Santorini, Greece, look no further than Perissa, Santorini one of the most ideal Santorini hotels with a private pool, Antoperla.