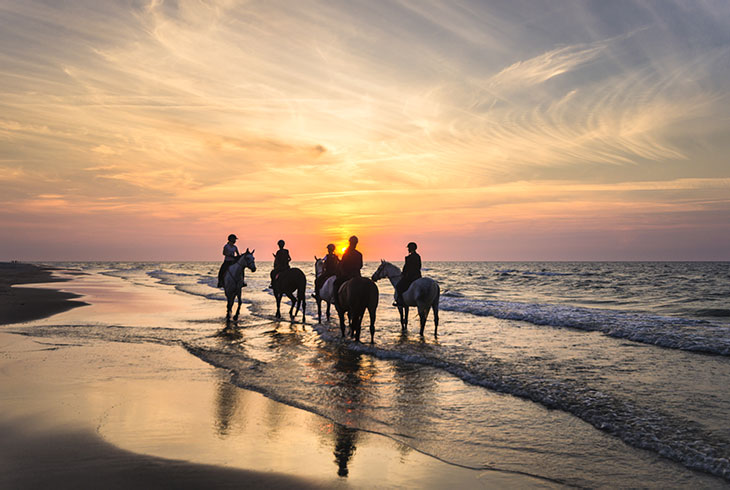 Apr 13th, 2018
Experience the Rugged Landscape of Santorini, Greece by Horseback
The rugged landscape of Santorini, Greece can be traveled in a number of ways. Some opt to rent a car or to take the bus. Experienced hikers may prefer walking wherever they're able to do so. Most tourists will combine a few methods of transportation in order to see the most of the island. But one of the best ways to see Santorini is through Santorini horse riding. You can tour the island by horseback, allowing for a unique experience and an opportunity to drink in all the scenery.
There are a number of opportunities for horseback riding in Santorini, Greece — both beach tours and tours further inland.
Beach Tours
The most common horse riding tours are along the Santorini beaches, so there are many options to choose from. These are the most picturesque tours and sometimes colored by the unique experience of being able to ride the horses into the water a bit. The black sands and deep blue waters of Eros Beach make it ideal for horseback tours.
Tourists can ride along the beach and then head uphill to get the full view of the beach. The uncommonly beautiful Vlychada Beach is also a setting for horseback tours. Vlychada Beach is known for its lunar shape, as well as the tall cliff formations that stand at its back. Perissa Beach, one of the favorite beaches of the island in Perissa, Santorini, can also be toured by horseback.
Land Tours
But there's more to see of Santorini than the beach. Some tours, for instance, will take you to the archaeological site of Akrotiri where you can explore the excavated ruins of city once covered in volcanic ash. Another popular option is the village of Megalochori. What makes Megalochori special is that it is practically unmarked by tourists. Here you can see Santorini locals going about their everyday life, a quieter landscape, and gorgeous traditional vineyards.
And of course, horseback tours would be remiss if they neglected the opportunity to tour the Santorini caldera. Horseback caldera tours trail along the cliff above the magnificence of the famous caldera, created by an ancient volcanic eruption.
Private Tours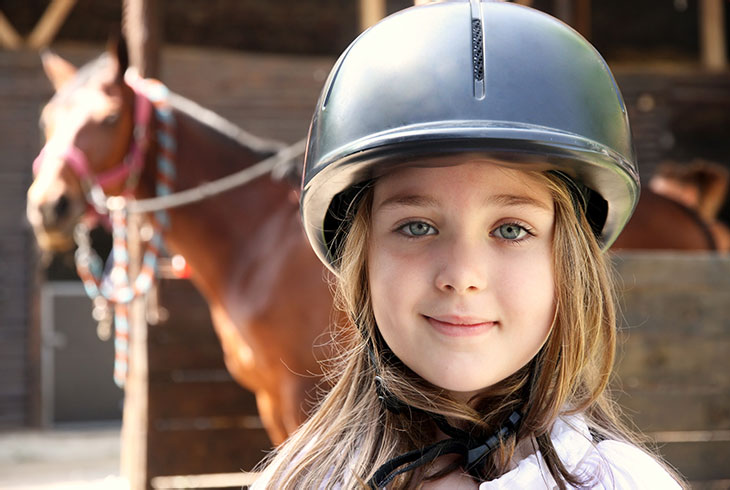 Love the idea of going a horseback tour in Santorini, but not in a large crowd of other tourists and horses? Then schedule a private or semi-private tour. Take a scenic horseback ride with your family, your significant other, or just a small group of other tourists. Private tours will need to be scheduled well ahead of time, because they're understandably more coveted.
Fortunately, some Santorini luxury hotels, like Antoperla in Perissa, Santorini, will organize your tours for you. When you book with a luxury hotel, just tell them you'd like to take a private horseback tour and they'll take care of the rest.
Before Your Tour
If you're an experienced horse rider, you probably need no assistance before getting a leg up and riding off. However, many visitors are first time horseback riders or are only able to go on a horseback ride when on vacation. Fortunately, many Santorini horse riding stables offer training before the tour begins. They also provide all the proper equipment you need and will take pictures for free so that you don't have to worry about capturing every moment while on horseback.
Where to Stay
After a day of horseback riding, you'll want to relax in comfort and luxury at your hotel. Santorini hotels with private pool or spa amenities are very desirable in that way, and you can find them in Perissa. One of those Santorini hotels with private pool and spa amenities is Antoperla Luxury Hotel & Spa, and if the name itself doesn't already put you in a more relaxed mood, the sight of your rooms will. Our rooms and suites offer all the privacy and comfort you could want for your Santorini, Greece vacation. In addition to 18 Santorini rooms with private pool amenities, we offer a spa, sauna, laundry and ironing service.
If you're visiting Santorini, Greece, make sure you do so in luxury. Book your room at Antoperla today.