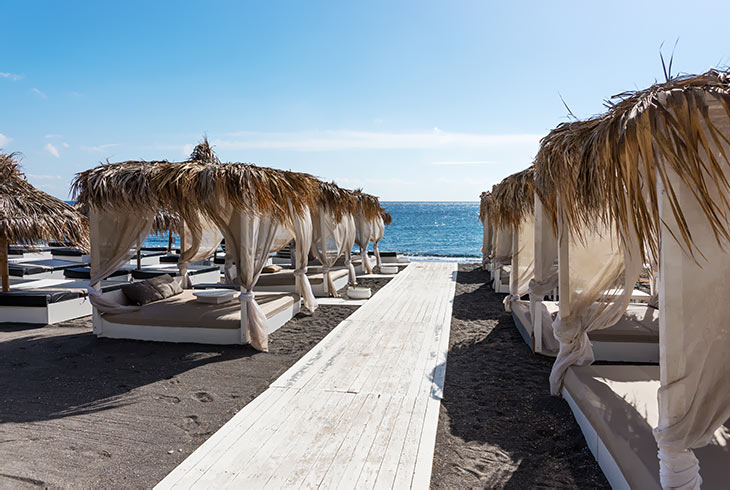 May 04th, 2018
7 Beaches to Visit in Santorini, Greece
A visit to Santorini, Greece would be remiss without visiting at least a few of the beaches. Perhaps equal to the famous Santorini caldera, it is the deep blue waters of the Aegean sea and the uniquely gorgeous black sand beaches that draw people to Santorini every year.
As an island, there are many organized beaches in Santorini waiting for you. But if you need help deciding where to start, here are seven beaches that we recommend.
Perissa & Perivolos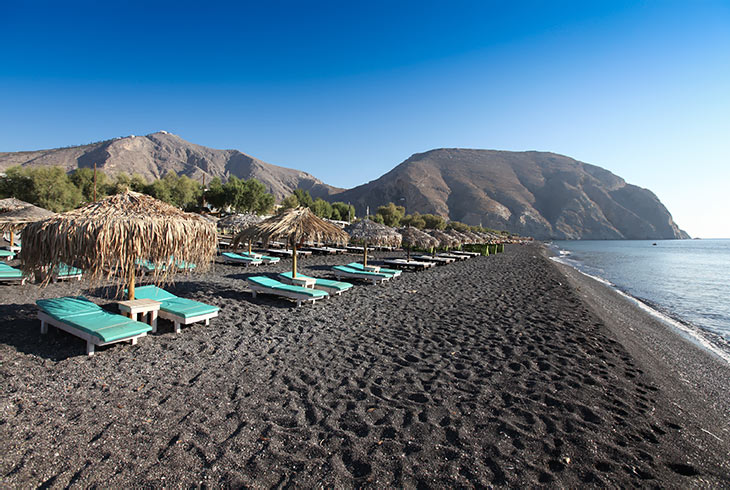 From Perissa, Santorini, you can visit Perissa and Perivolos beach. These two black sand beaches are very similar and form the longest stretch of beaches in Santorini. Both are organized beaches with plenty of umbrellas and sunbeds so you can enjoy the sun in luxury and comfort, with restaurants and tavernas close by.
Perissa is the most popular beach in Santorini, Greece, especially for water sports. Perivolos, or Black Beach, is known for its nightlife, and is commonly visited by young honeymooners or singles.
Off Perivolos, however, is the smaller beach of Aghios Georgios, where you can find some peace and quiet away from the crowds.
Vlychada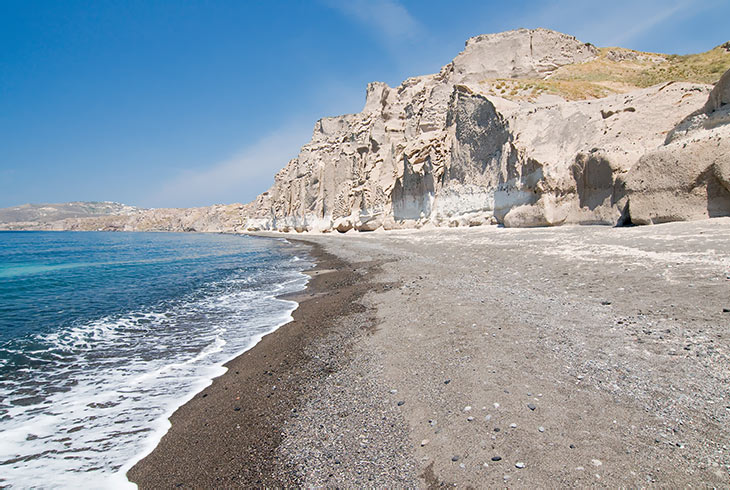 Where Perivolos is also called Black beach, Vlychada is known as White Beach. This is not because of the sand, which volcanic black sand much like Perissa and Perivolos, but because of the tall white cliffs that stand against the back of the beach.
The waters here are shallow and excellent for swimming. This is just one of the many natural beauties of Santorini, Greece, but one you won't want to miss. There are also tavernas nearby selling fresh fish, from which you can bring a sandwich while you enjoy your day at the beach.
Eros Beach
A continuation of Vlychada, Eros Beach also borrows the grandeur its tall white cliffs. This beach is smaller, quieter, and, as its name suggests, rather romantic. So much so that it is sometimes a venue for weddings. However, it is still organized with a few sunbeds for those who choose to use them.
There is also a classy beach bar nearby, offering a variety of seating — couches, swings, and hammocks — so you can recline and take in the view while you sip your cocktail.
Red Beach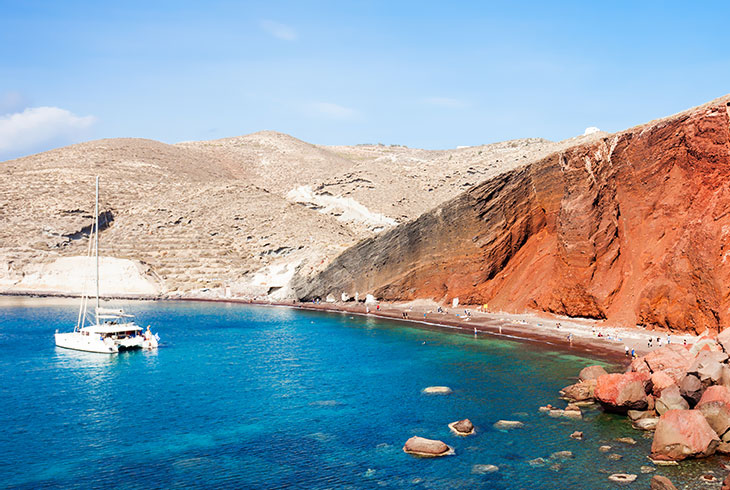 Red Beach is easily among the most striking beaches in Santorini, with tall deep red cliffs and red sand that makes the blue of the water that much more brilliant. It is located in Akrotiri, where the ruins of the ancient city can also be found.
Here you can go snorkeling and enjoy the variety of sea life nearby. This beach is small and, sheltered from the wind, rather hot, but its unique beauty can be enjoyed even from afar.
Monolithos Beach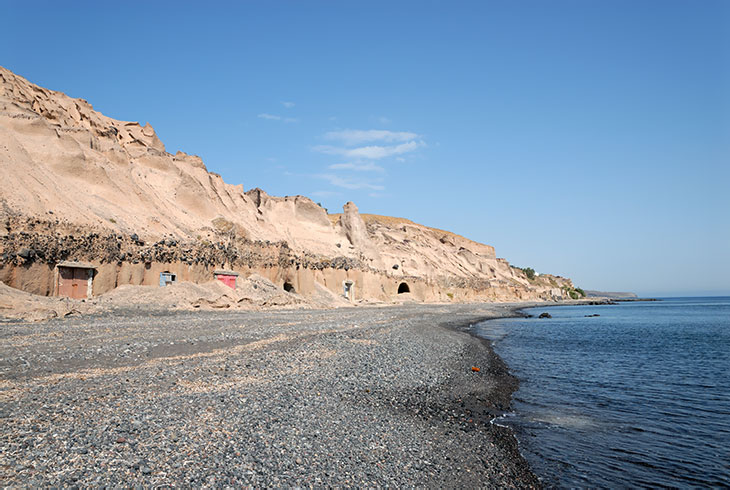 Monolithos Beach is known for its mysteriously shaped white rock formations, created by a combination of natural erosion and the waves. This beach has everything. It's a great place to recline and soak up the sand and sea, a shallow place for swimming, and it also has a volleyball court and playground for children.
It's close to the airport, so it's an easy first stop after you drop your bags off at your luxury hotel in Santorini. This beach is beloved not just by tourists but by locals, as well.
Ammoudi Bay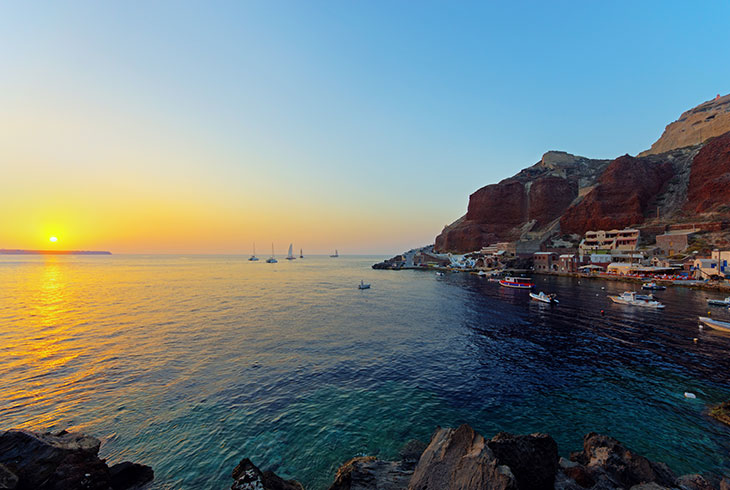 Ammoudi is the small port at the bottom of the famous 300 steps in Oia. While it might not be a beach in the traditional sense, there's a beautiful view of the water either from the cliffs or the many restaurants positioned against it. Ammoudi Bay is a popular spot for cliff diving. If you're feeling less daring, though, you can still dip your toes in the rock pools or go for a light swim.
If after you've visited the many beaches in Santorini you still feel the need to go for a late night swim, then you'll want to stay at one of the Santorini hotels with private pool amenities.
Antoperla Luxury Hotel & Spa, located in Perissa is a Santorini hotel with private pool amenities for many of our rooms and we offer the kind of hospitality that makes our guests feel like royalty.
Our staff are also experts of the best sites and activities in Santorini. If you want to know where to start in your visit of the many beaches of Santorini, Greece just ask.
When it comes to beaches in Santorini, these seven can't be missed. When it comes to Santorini luxury hotels, Antoperla is a clear choice.