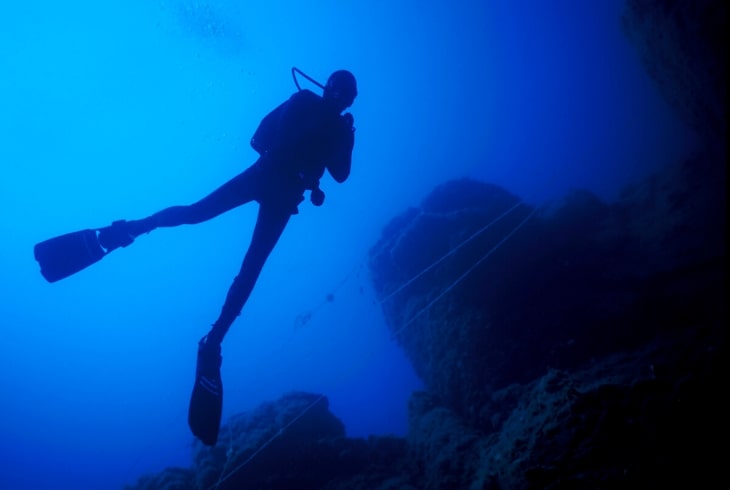 May 04th, 2021
Snorkeling & Scuba diving in Santorini – Best Spots for FANTASTIC underwater experiences!
Santorini has a profound and unique way to enchant with both its above- and under-water charms one way or another! Indeed, the subaqueous geomorphology of this magnificent Mediterranean island is a diver's biggest interest. So, although the marine life in Santorini is not particularly rich, scuba diving in Santorini is an experience you definitely want to try if you love diving into aquatic kingdoms of pure magnificence.
But besides exploring shipwrecks and caves and pampering yourself with endless options for drop-offs around the volcanic islets and the Caldera, reefs, and wall dives, the crystal clear waters here create the perfect environment for other water sports, like snorkeling in Santorini. Add to that the mild currents, and you can begin to realise what a treat this activity can be here, even for beginners.
With excellent visibility, for the most part at least, which can often reach as far below the sea surface as 40-50 metres, you can't be wrong when snorkeling and scuba diving in Santorini! Here are some of the best dive spots around the coastline that will introduce you to aquatic experiences that will steal your heart.
1. The Caves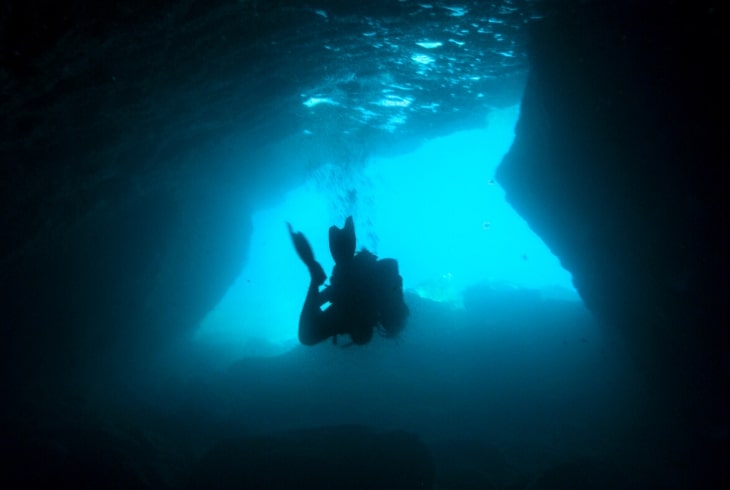 The depth here is no more than 10 metres and features spectacular underwater caverns and canyons, alongside enormous swim-throughs and boulders. The intense activity of the Santorini volcano in the past has shaped The Caves, giving it its distinguishing geology. That aside, this southern part of the coast is also home to an incredible marine life that consists of glassfish, octopuses, and moray eels.
So, besides visiting the volcano and the Caldera as part of your Santorini Greece honeymoon, the area surrounding the crater is also an excellent place to start your underwater adventures!
2. House Reef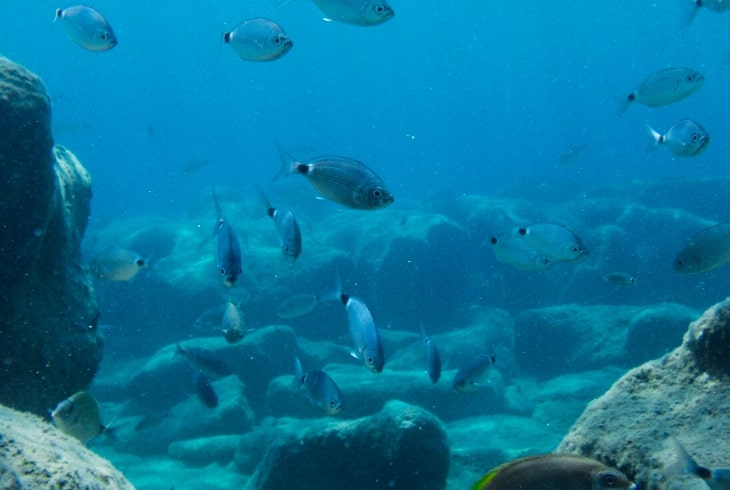 An excellent spot to enjoy snorkeling in Santorini with shallow waters and a plethora of school fish to welcome you underwater. House Reef provides shelter to an impressive range of invertebrates (i.e., nudibranchs) and crustaceans like crabs. The fact that it is an area where fishing is banned has allowed it to be even more abundant than other dive sites. So, don't be surprised if you also spot barracudas doing their thing!
The best time for scuba diving in Santorini? House Reef transforms after sunset and in the early morning hours. From absolutely spellbinding into totally hypnotising!
3. Kamari & Perissa Rock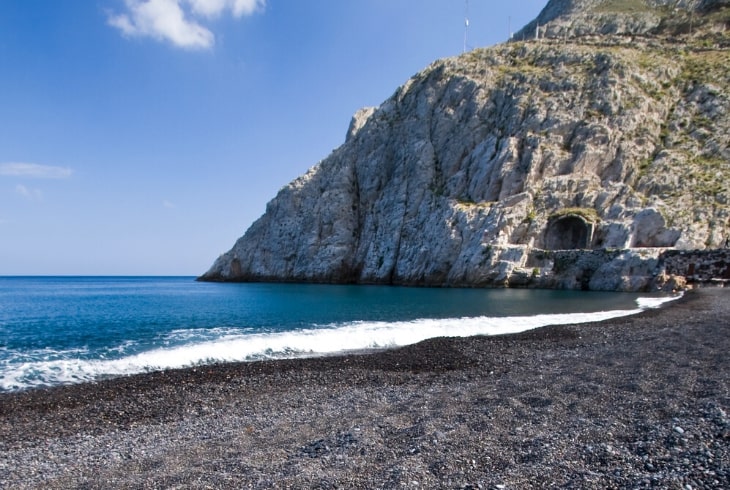 Besides the utterly captivating black-sand Perissa beach, the Perissa region is also adored for the massive volcanic rock formation and the maze-like underwater cosmos. Expect to be greeted with rocks coated with colourful corals and sponges that are perfect hiding spots for the crustaceans, octopuses, and moray eels that live here.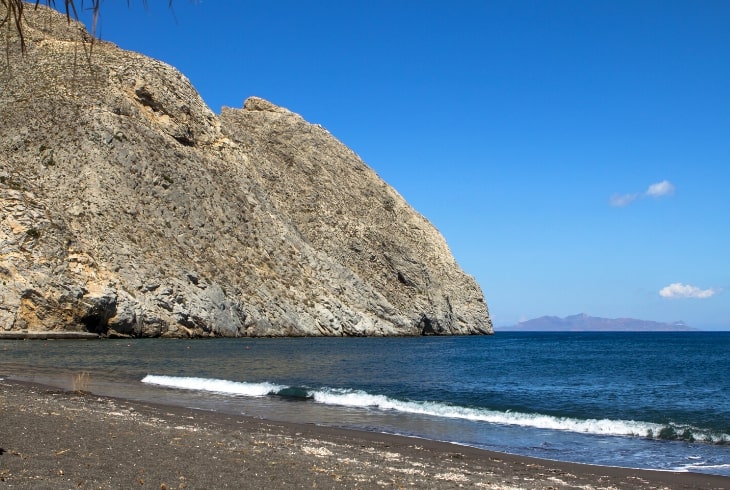 It should also be noted that Kamari & Perissa Rock is a place where barracudas love to hunt. Besides, snorkeling in Santorini (this particular spot, to be exact) will give you the chance to say hello to the playful wrasse, glassfish, and anthia that take a stroll in these waters.
The best thing about this dive spot is that it is a breath from your luxury Santorini hotel, Antoperla, which means that you can hit the water and expand on your aquatic endeavours within minutes!
4. White Island (Aspronisi)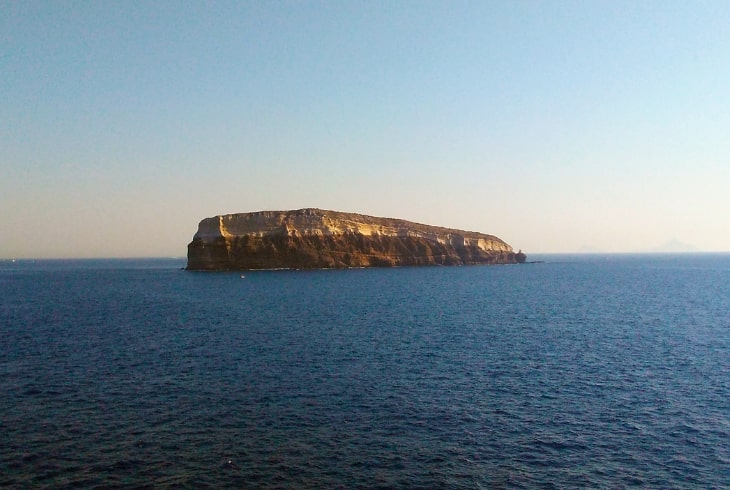 Scuba diving in Santorini and a spot called White Island will enable you to immerse in the natural habitat of shrimps, nudibranchs, crabs, corals, sponges, groupers, moray eels, octopuses, barracudas, and reef fish. Al that aside, you will have an extra pinch of thrill with wall diving and laying eyes on superb lava formations, eagerly anticipating to tell their part of the story about what has happened to Santorini quite a long time ago!
5. Nea Kameni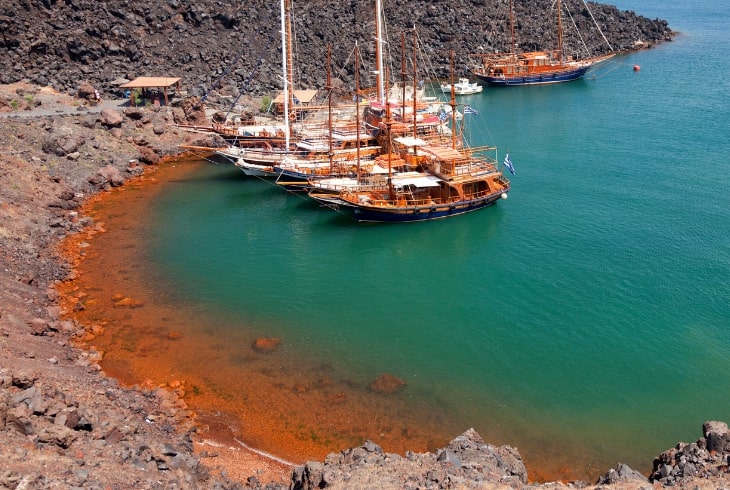 If you love shop wrecks, then this is where you need to be. Scuba diving in Santorini takes another form and shape at Nea Kameni, with the 34-metre-long Santa Maria sleeping in the sea bottom for more than 40 years. Thanks to the calm waters and easy dive, it is perfect even for novice divers.
However, since it lies around 18 metres under the surface, Nea Kameni might not be the ideal spot for snorkeling in Santorini, although there is good visibility. In any case, you will have lots to explore, including sea caves, lava formations, and imposing rocks that look like aquatic guardians of the sleeping beauty.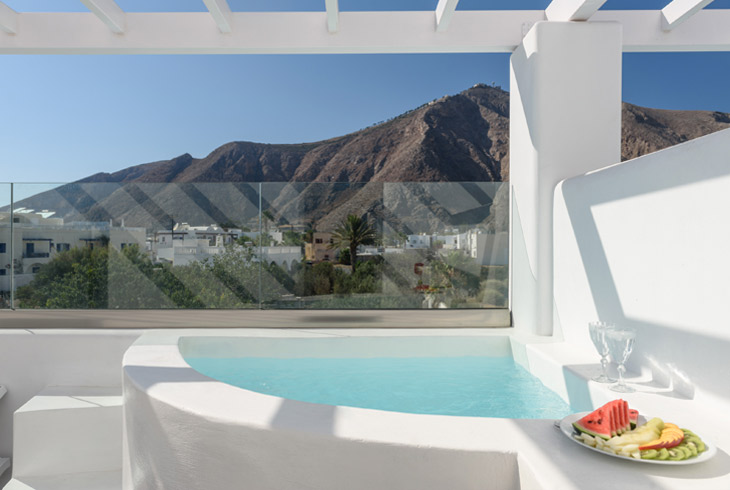 Want some help to join a dive tour or have your scuba diving or snorkeling needs met while visiting Santorini? Do not hesitate to seek the assistance of the friendly Antoperla receptionist. Besides one of the most exclusive Santorini Greece hotels with a private pool and a wealth of amenities, Antoperla is wholeheartedly devoted to its guests' utmost gratification.
We have lots more dive spots to recommend, such as the Adviatous Reef inside the Caldera rim (also home to a shipwreck)! It will be a sheer pleasure for us to help you enjoy the memorable holidays you deserve.