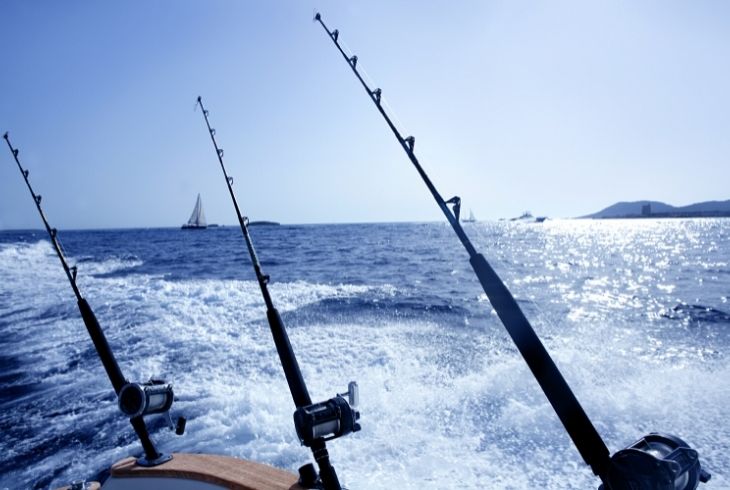 Jul 02nd, 2021
4 Soul-Pleasing Santorini Fishing Tours for Fishing Aficionados & Amateurs!
Besides idyllic and incredibly heart-stopping sunsets, Santorini has many more ways to pamper its visitors. In fact, it offers such an impressively wide range of activities and things to do that it's hardly unlikely the requirements or needs of even the most discerning ones are not met. For instance, those seeking alternative tourism options and endeavors offering calm hours by the sea will probably be thrilled with pastimes like fishing.
Fishing enthusiasts have another reason to look forward to a Santorini getaway, with so many Santorini fishing tours and a rich underwater world full of fish and inviting experiences waiting to reward every aquatic adventure. Whether a professional fisherman or a fishing hobbyist, fishing in Santorini provides extraordinary experiences and unique landscapes for your maximum satisfaction.
Here are some Santorini fishing tours that will enable you to discover the crystalline waters of the Aegean Sea and enjoy some quality time with your friends or beloved one(s):
Deep Water Fishing Tours
It doesn't matter if you are a layperson liking fishing or a professional because deep-sea Santorini fishing tours are for everybody and require no particular fishing skills. And, did you know that the open sea in Santorini is also home to plenty of shrimp and tuna fisheries? A deep water fishing tour gives you the chance to catch and dine on these delicious fish – the fish you catch on your own! Depending on the tour, you may even be treated with traditional mezedes and drinks as the onboard chef cooks the fresh fish you fished.
While here, you could swim in the crystal clear waters or snorkel! If this is not something you are particularly fond of, you can always have a rejuvenating dive in the swimming pool when you return to your Antoperla room. This is a unique experience on its own, as Antoperla is one of the greatest Santorini hotels with a private pool.
Sunset or Early Morning Fishing Tours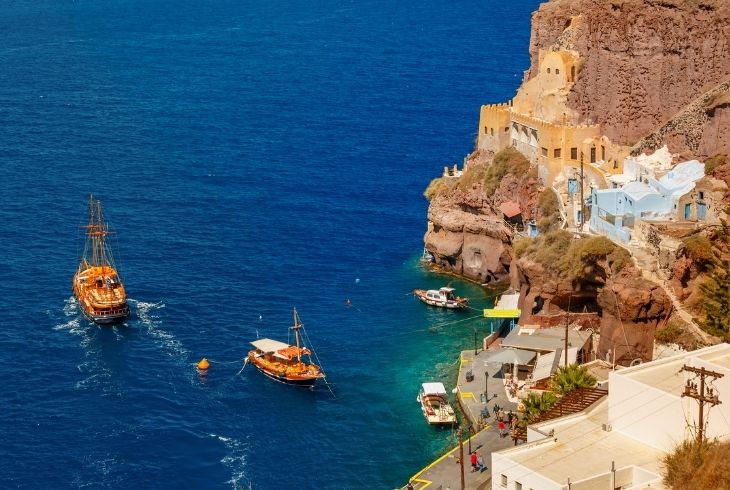 Such a Santorini fishing tour will let you soak up the picturesque Santorini sunset – the most celebrated Santorini spectacle. So, you get to blend two magnificent experiences in one tour – fishing in pristine rich-in-fish Mediterranean waters and please your soul with stunning vistas of the descending sun that paints the sea with shades of gold and orange.
Alternatively, an early morning fishing tour will introduce you to a spellbinding sunrise. You may also combine your fishing adventure with other water-related activities. Snorkeling in Santorini is definitely a must-have experience that will allow you to dive deep into the very waters that provide a home to the fish you are about to catch!
Fishing & Cruise Tours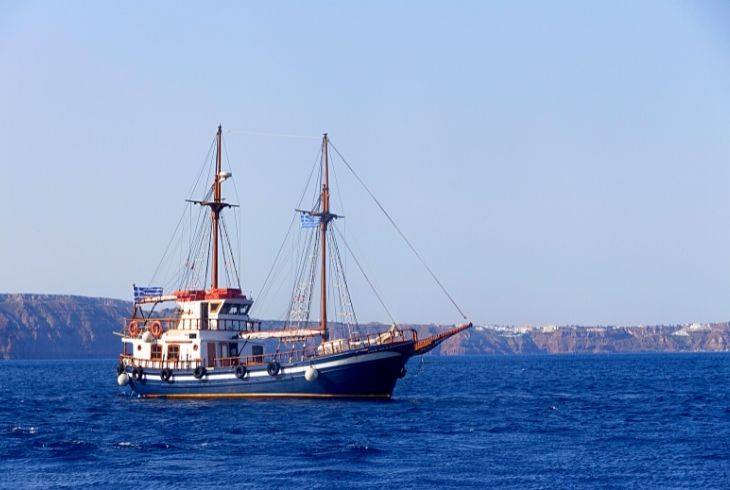 This is one of the most preferred types of tours among couples having their Santorini Greece honeymoon when one of the partners is crazy about fishing and the other would rather have a Santorini boat tour! That way, you please both sides. Such tours usually take participants to major local sights, such as the Caldera and other attractions.
If you feel like expanding on this fishing tour, you could even go for a tailor-made cruise that includes a stop at the Santorini Hot Spring. So, one partner waits for the fish to bite the bait while the other dives in the natural spring with the therapeutic properties. Both, though, get to admire the hypnotising volcanic scenery and create memorable experiences as a couple.
Then, you can get back to your Santorini luxury hotel and submerge in the top-tier pampering Antoperla is known for providing its guests!
Night-Long Fishing Tours
An overnight Santorini fishing tour is an entirely different experience than all other types of fishing tours. Your experienced captain takes you to the most active spots in the open sea, where you and the rest of the fishing team enjoy fishing the most traditional Greek way. This requires a very early wake-up call, though. If you decide to go for it, you will be taught the tricks and techniques local fishermen use to catch fish and learn things like how to fish and how to bait, among others.
Fishing hotspots
Perissa Santorini has one of the richest fish resources in Santorini, thanks to the relatively deep waters. So, it comes as no surprise that most fishing tours are headed to the waters around the shore with the peculiar volcanic morphology and impressive scenery. Truth be told, though, the entire southern side of Santorini has waters with a profound number of fish and various schools of fish.
Not far from Perissa Beach and its abundant-in-fish waters, the sea at White Beach, Kamari Beach, and Vlychada Beach are also fishing hotspots offering fabulous views of the nearby islands. What to expect from fishing in any of these areas? From octopuses and sheepsheads to red mullets and lobsters!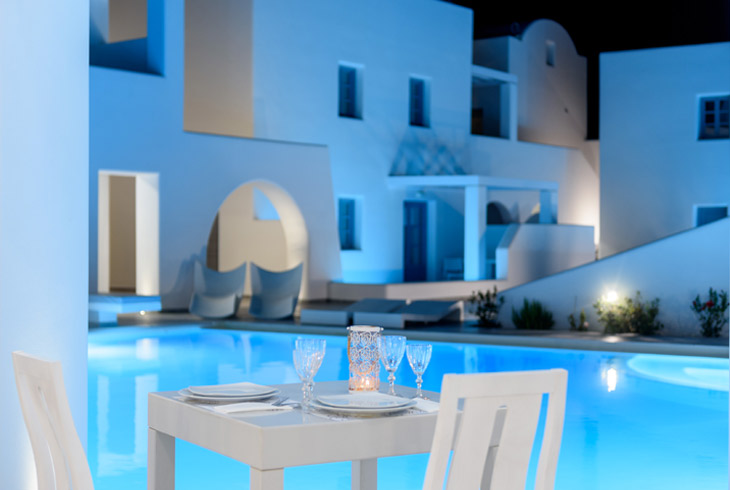 For more information about the available fishing tours (private, semi-private, or whatever other type), feel free to ask the friendly receptionist at Antoperla Luxury Hotel & Spa for assistance. Antoperla is one of the best-rated Santorini resorts for a reason, as we cater for our guests' all-around Santorini experience! So, you are more than welcome to turn to us for any tip, help, or other concern.