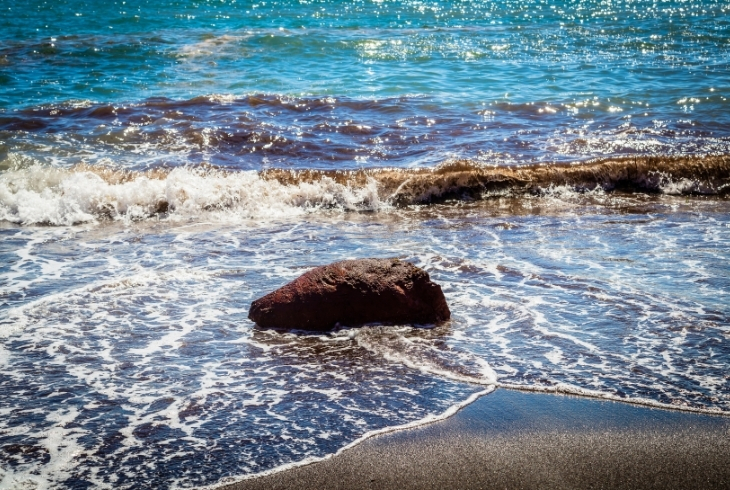 Jul 26th, 2021
Visiting Santorini In The Fall - A Prerequisite For Authentic Greek Island Endeavors
If rubbing shoulders with hundreds of other tourists trying to squeeze themselves to get a good shot of the Santorini sunset is not your cup of tea, then coming between September and November is probably your best option. The same applies when you want to escape the scorching hot summer temps and live a more genuine Greek island experience when the overwhelming mass of tourists subsides, giving locals the chance to relax and be even more friendly and enjoyable. Everything seems to gradually return to its pre-summer rhythms and islanders make preparations for the upcoming winter before the next tourist season. Wondering what Santorini in September, October, and even November feels like and what it has to offer? Feel free to dive into this guide and get another aspect of the beautiful island that enters a slightly different orbit after the summer craze.
What is Santorini like in September?
Santorini in September is actually a continuation of Santorini in July and August! Expect high temperatures averaging 24oC, lots of sunshine, and very few chances for rain. This is because the southern Cyclades islands, including Santorini, don't have the usual four seasons rather than just two (summer and winter).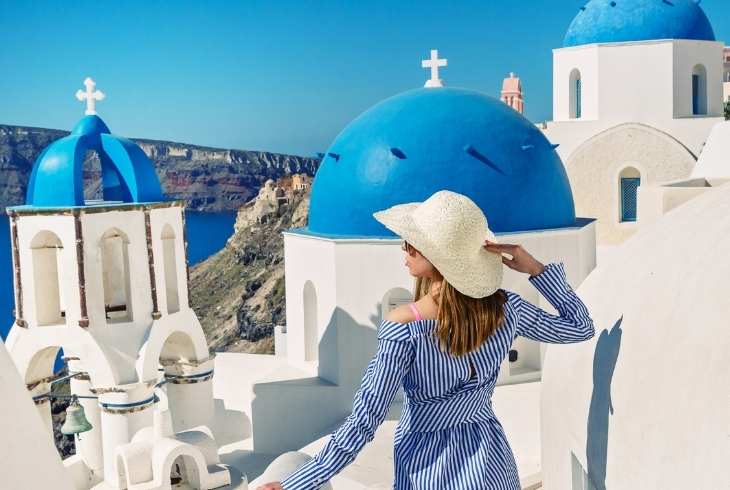 However, Santorini is not only perfect for the late summer sun (out of the 12 hours of daylight, 10 enjoy sunshine). It is also an excellent option for those wishing for a more laid-back experience. The island is not as touristy and busy as the peak summer months, humidity is low and nice, the sky is clear and blue, it is much cooler than in the summer, and the sea is still inviting for swimming.
What can you do in Santorini in September? Literally, every single thing you would do during June, July, August, and even April and May. The shops, restaurants, hotels, bars, and all businesses are 100% open. So, you can pamper yourself with any type of entertainment you desire. The weather being neither too hot nor too cold also makes leisure strolls and sightseeing a delight.
You may also visit iconic shores, such as Perissa beach and dive into their crystalline and refreshing waters. What a fab opportunity to enjoy more privacy, skipping the large crowds of mid-summer while still trying sunbathing, water sports, and swimming under the warm sun!
As for what to pack for a holiday in Santorini in September, let's just say that your summer clothes are perfectly suited to this particular month. So, anything from speedos and bikinis to shorts and t-shirts will do.
What is Santorini like in October?
The average high in Santorini in October is 23oC, so it is still warm and lovely, even though you may need to pack a warmer jumper for after sunset. At night, the temps can drop to 16oC-18oC. Generally, though, October may be a cooler month than September but it's by far warmer than most European summer months.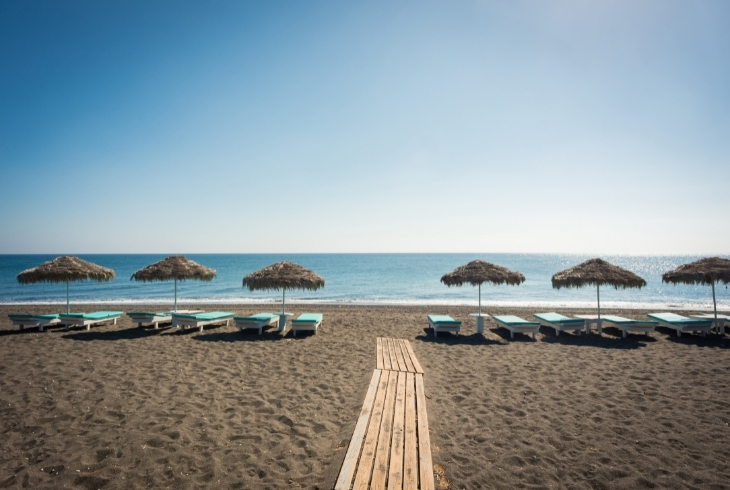 Being the last month of a dry and warm Mediterranean summer (remember, Santorini only has two seasons), October is a bit cooler than other Cyclades islands. The humidity is low, it may have a few rainfalls here and there, and there are usually around 11 hours of daylight, leaving plenty of time for things like wandering the cobbled streets of Fira and Oia, visiting picturesque villages, and enjoying Santorini volcano tours without needing loads of sunscreen or having to endure heavy crowds and sunshine.
And, yes, you can also swim in Santorini in October. In fact, the sea is sometimes even warmer than in June! Plus, you get a little extra when visiting the island's shores as October is a low-tourism month. This means that you will probably have a large part of any beach all for yourself.
Now, if you would prefer shores with more sunbathers along the beach, you can certainly spend relaxing times at your Antoperla suite.
Antoperla is among a handful of luxury Santorini hotels with a private pool. Therefore, why not soak up some rays next to your infinity pool while gazing at the cloudless Mediterranean sky and getting spoiled with exclusive services and fantastic views?
As for the ideal Santorini in October suitcase, you can throw in your swimsuits and shorts but do ensure you also bring a light jacket for the cool evenings. To give you an idea, October in Santorini feels like June or July in Paris or London.
Speaking of ideal, where you decide to stay in October depends on what you want to experience. The island starts to slow down, so Fira or a location near the capital will give you good nightlife. Imerovigli and Oia are superb alternatives for quieter holidays, especially if views are not your highest priority. Also, the area around Perissa beach is home to Antoperla, a top-rated luxury hotel in Santorini, and plenty of beach bars and restaurants catering to your needs.
Note: October is an excellent month for island-hopping and wine-tasting tours. Also, you can take pleasure from Santorini bike tours around this time of the year, as it is cool enough to enjoy the ride. The roads are less congested, the streets less crowded, and the dirt paths freer to explore with still some nature to see.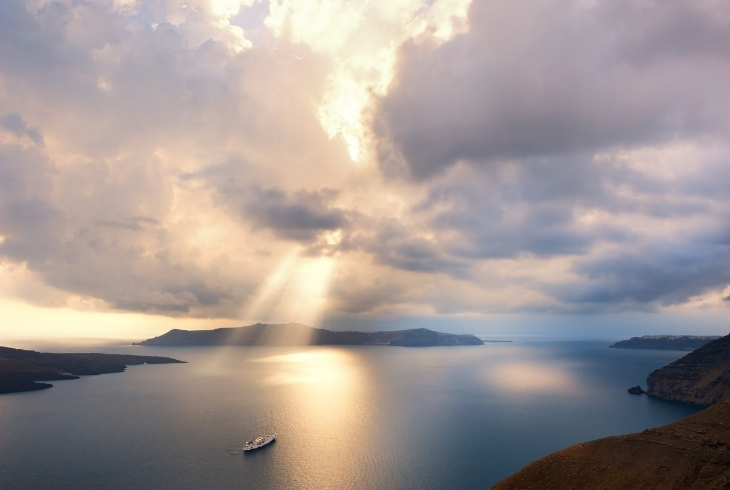 What is Santorini like in November?
The summer draws to a close, and the weather in Santorini in November is getting cooler. Anticipate more rainfall but a still fairly mild weather (average temp is 17oC). The island is slowly sliding into its more quiet and peaceful time of the year, which means that you can enjoy luxury Santorini resorts like Antoperla to the most.
In general, November is the best time to visit Santorini for sightseeing, wineries, views, and food, which all only require warm, pleasant weather and not hot temps. Island-hopping could also be an option unless you want to live some nightlife. In this case, arrange for a September or October Santorini visit as the rest of the Cyclades islands are very quiet in November.
Finally, the days are cloudy and cool as winter is approaching, though a visit to the beach is still pretty enjoyable (but suitable for swimming only for winter swimmers!). The last cruise ship makes a last visit to Santorini in late November, which means that nearly all shops and hotels are closed by then.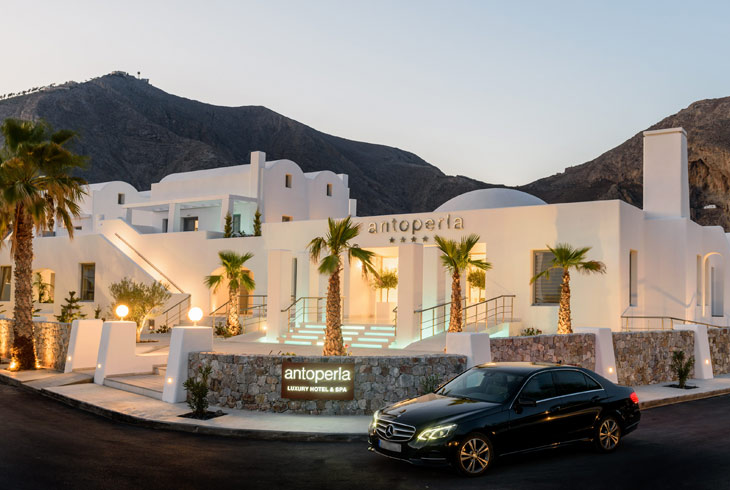 Now, whether you choose to have a Santorini honeymoon in any of the Fall months is totally up to you. Admittedly, though, many couples prefer a September or October Santorini wedding or honeymoon to have as much of the island (and its gorgeous views, sights, and sunsets) all for themselves.
In any case, have a fantastic time!