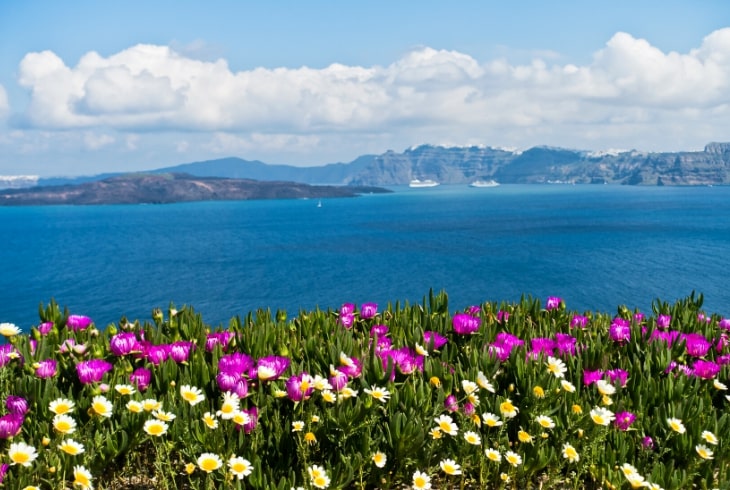 Apr 19th, 2021
Visiting Santorini in Spring – A Magical Experience Worth Adding on Your Bucket List
Santorini is, without a doubt, the crown jewel in the Aegean Sea, if not the entire Mediterranean. No wonder it is the most beloved destination for thousands of tourists every single year. Rightfully so. What is not to love about this unique island with the whitewashed houses, blue-domed churches, narrow, cobbled streets, bougainvillea-filled balconies, peculiar morphology, volcanic settlements set on top of an imposing Caldera, and the mind-blowing views of the ocean spreading right below your feet!
What most people don't know, though, is that the best season to enjoy an exquisite vacation is in spring. Here are some reasons why your Santorini holiday endeavors from April to May or June (early summer) are equally delightful (if not even more pleasurable) than a stay during the high season!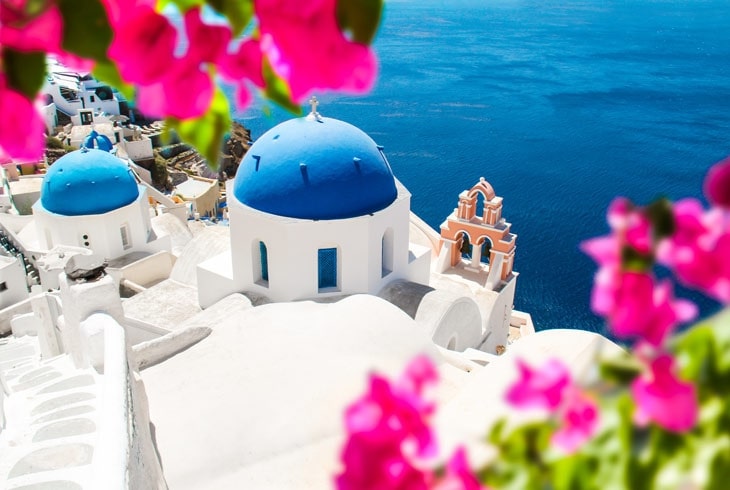 Besides better-priced services, food, accommodation (Santorini resorts like Antoperla always offer appealing deals in the off or shoulder season), and airplane tickets, a Santorini holiday in the spring also allows you to savor:
1. Fewer crowds so more privacy for you During the months of April and May or June (early summer), the island is beginning to bloom, showing its gorgeous colors, and filling the air with intoxicating aromas of thyme and lavender. The weather is already warm enough to enjoy a leisure stroll in the cities and villages and visit the local attractions without rubbing shoulders with thousands of other people also trying to get a good spot for those idyllic sunset views. This means that you share the entire island with just a few more visitors, which gives you ample space to move around and all the privacy you need to have heart-filling Santorini holiday ventures, including Santorini volcano tours.
Tip: You may combine your stay at one of the most exquisite Santorini hotels with a private pool, like Antoperla, with great sightseeing and chilled explorations of the island within close proximity.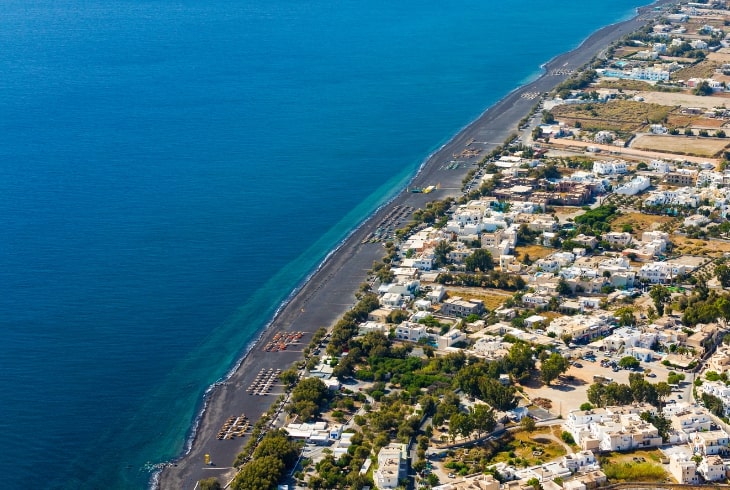 2. The beaches are just as inviting! Santorini rarely gets harsh winters and low temps. Even in the spring, you can expect around 25oC (77oF) in April and a few degrees higher in May. So, there is no doubt that the beautiful beaches in Santorini await to offer you relaxing moments by the crystalline waters. You may even try snorkeling, scuba diving, and other water sports and have a fantastic underwater world all by yourself to explore. Trust us, this could probably be one of the most rewarding things you have experienced during your spring Santorini holiday adventures!
But, even if you are not too comfortable getting into the water yet, you can still soak up some warm rays and have a great time by the beach under the cloudless sky. For example, you can have your breakfast at Antoperla luxury hotel in Santorini and then walk to Perissa beach, the famous black sand beach with the sweeping views of mountains and cliffs and the cobalt water.
3. You get a taste of authentic Greek island life Let's face it. The tourist season is magnificent for the tourists but exhausting for locals, businesspeople or not, with so much that needs to be taken care of so visitors have a dreamy Santorini holiday. Spring, on the other side, is a great time of the year to walk around the island and enjoy laid-back experiences with the locals, chat with them, share a slice of spinach pie with them or a glass of ouzo, and sharpen your Greek!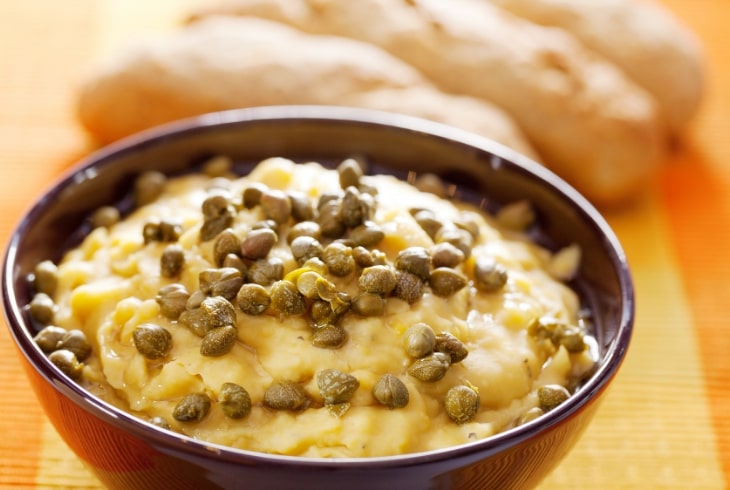 You also get to view how they go by their daily lives, watch fishermen get back early in the morning with their boats filled with fish from the Aegean, wine producers making their renowned wines, and so much more. These tiny details are lost in the high season with so many people to be accommodated. So, if you are wishing for a Santorini holiday with a private pool and the most authentic Greek island taste, then spring it is!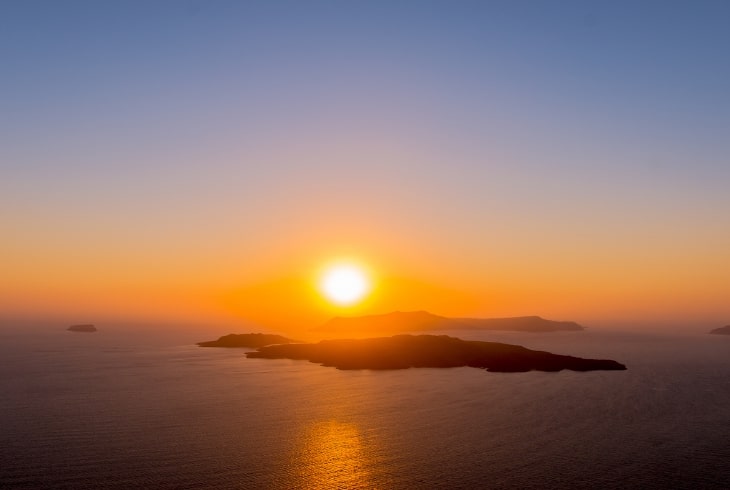 4. The sunset is still gorgeous! Whether you choose the island for the heavenly Santorini honeymoon you had in mind or just to enjoy your Santorini holiday escapades with much fewer visitors, you won't be disappointed if you come in spring. The iconic sunsets are captivating all around the year. You just save yourself the anguish to come in early and secure a good place to watch the sun slipping behind the golden horizon before it gets too crowded.
And, if you want to combine your Santorini holiday with a private pool with sunset tours or other ventures, feel free to share your thoughts with the friendly and smiling staff at Antoperla. They will be delighted to make your desire a tangible reality for you.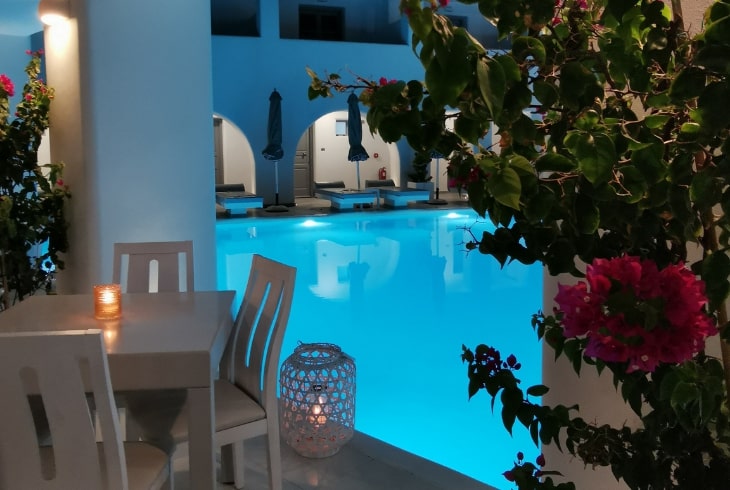 Where to stay in Santorini in the spring
Antoperla offers its services in spring, which means that you can pamper yourself with ultimate luxury, utmost privacy, and the exclusiveness you seek from your visit. Feel free to enjoy a Santorini holiday with a private pool and many more modern amenities specifically designed to meet the requirements of even the most discerning guests.
**Welcome and enjoy!