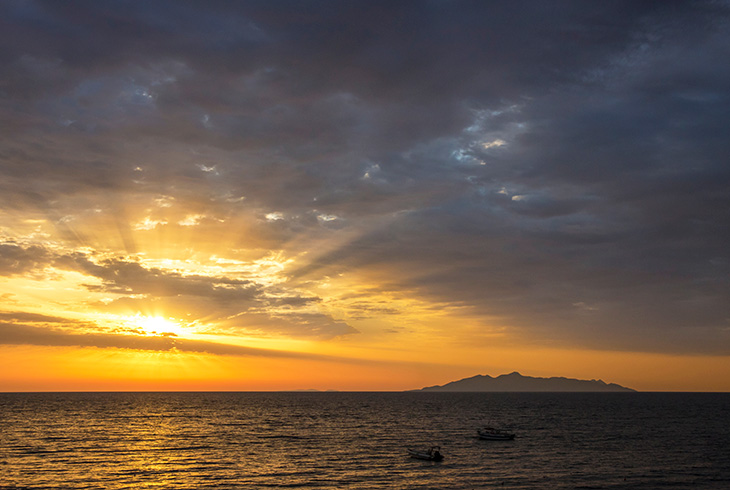 Jan 30th, 2020
Welcome to Anafi – A Magical Day Tour from Santorini
Besides a favourite honeymoon destination, Santorini is one of the most magnificent Cycladic islands that combines natural beauty, pristine seascapes, out-of-this-world beaches, and heart-stopping sunset views.
Of the many things you can do while visiting this lovely island, taking a tour to nearby Anafi island is definitely a bucket-list material. You will find several Santorini Day Tours to take you to the untouched-by-modern-development Anafi. This charming small dot just opposite Santorini to the east, can be part of a Santorini Day Cruise if you have some six hours to explore the Anafi whereabouts. However, due to its short distance (between 30-90 mins from Santorini), such Santorini Boat Trips could also be easily turned into a full-day escape from the Queen of the Cyclades with a sailing yacht, motor speed boat or catamaran which are available for rent.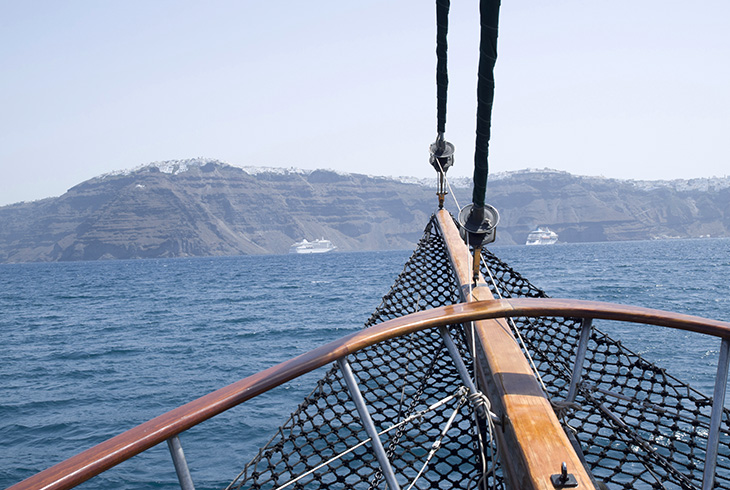 Needless to say, all Santorini Day Tours are also provided as private trips while you may also request for personalised journeys depending on your particular preferences. For instance, you can enrich your Santorini family holidays or honeymoon with customizable Santorini Day Cruises that will take you to all the enchanting places around the Santorini coastline and the nearby shores of other Cycladic islands such as Mykonos, Paros, Naxos, Delos, and more.
Introducing Delightful Anafi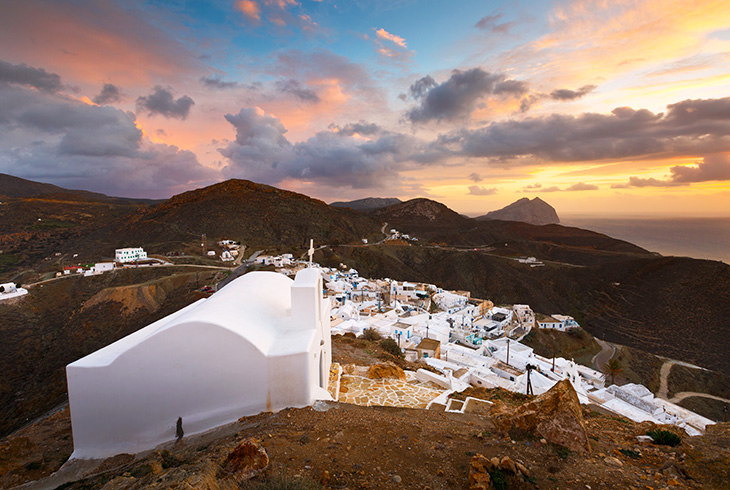 Besides being the closest piece of insular land to Santorini, Anafi is worth visiting for its crystalline waters, sandy beaches (some visitors say they are even more ravishing than the black pebbled beaches in Santorini), hiking trails and paths, and climbing opportunities (i.e., the Monolith of Mount Kalamos) that will give you the chance to enjoy spellbinding views of the Aegean Sea.
If relishing precious moments of tranquillity and serenity away from bustling crowds is within your Santorini honeymoon or family holidays, then do pick one of the many different Santorini Day Tours that involve a stop to Anafi. And, while there, you may want to visit the following shores:
Klisidi - The closest sandy beach to the island capital, the Chora with regular bus service and superb landscape.
Megas Potamos – A wild, totally isolated beach with high waves (perfect for windsurfing) and great views of the Monolith.
Roukounas – Every free-camper's heaven with a nearby bus stop and a taverna serving delicious food.
Flamourou – Perfect for those wanting to sunbathe with nothing but their birthday suit. A nudist-friendly beach with all the peace and quiet you could ask for.
What to note when choosing an Anafi tour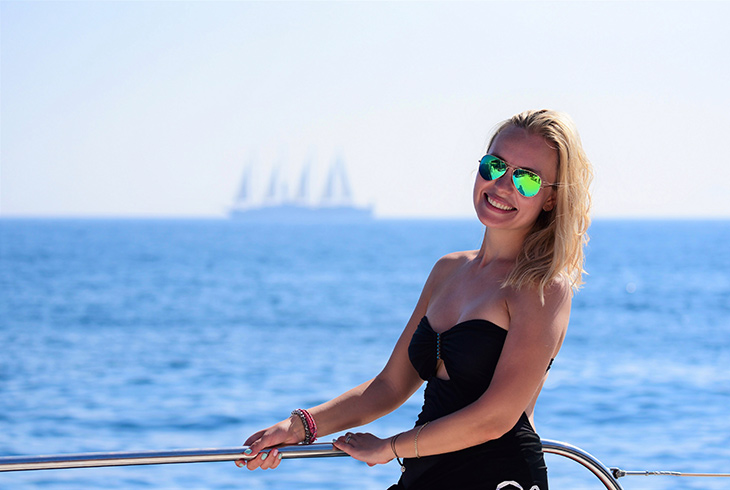 Many Santorini Day Tours to Anafi include lunches at local tavernas. If you have this opportunity, do take your time to enjoy some palate-pleasing homemade meat dishes, fresh seafood, and tastes enhanced with vegetables and herbs that grow in the taverna owners' own garden! Most of the restaurants are located on the main cobbled street of the island capital - among the Cycladic islands, it is always called The Chora – a traditional settlement with no more than 300 inhabitants who live in perfect harmony with the environment.
Other Santorini Day Tours will take you to remote natural beauties, charming cafes with stupendous vistas, and gorgeous bars built with traditional Cycladic architecture in mind. Of course, you may also opt for a Santorini Day Cruise that involves lots of island hopping. That way, you will be able to treat yourself with all the allure of the Greek islands and lay eyes on some of the most arresting panoramas of the setting sun, the cobalt waters of the Mediterranean, and the cloudless skies of the Cyclades, to name just a few. Each island will dazzle you with its own special appeal for sure.
So, it all depends on the type of experience you are after. Decide on the amount of time you wish to spend and pick one of Santorini Day Tours that best suits your particular preferences and needs.
Accommodation options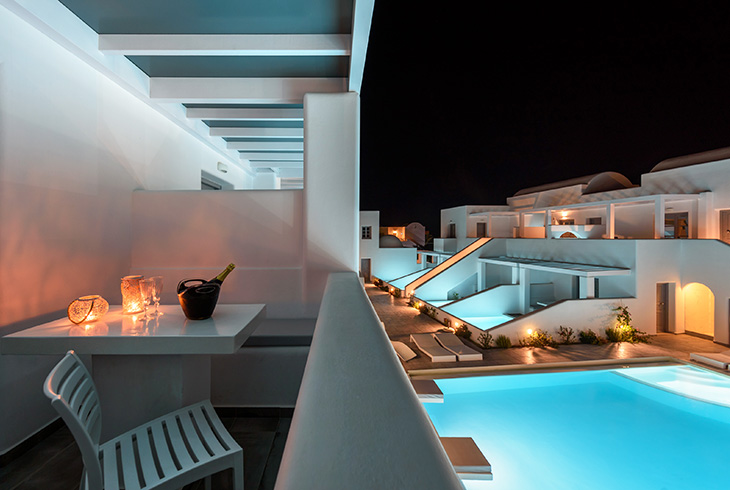 Santorini remains your best pick for your accommodation. Luckily, there is an abundance of luxury hotels in Santorini, with Antoperla being one of guests' top choice. Other than that, you can choose between apartments and studios that address the needs of more budget-conscious holidaymakers.
However, when it comes to living the most memorable experiences, your stay plays a pivotal role. For that reason, we strongly recommend selecting a Santorini hotel room with a private pool and other VIP amenities to ensure royal-like holidays, whether you are here for your Santorini honeymoon, family vacations, or any other reason.
Antoperla is among the very few exclusive Santorini hotels with private pools and easy access to the most dashing beach on the island, Perissa Beach. Our friendly and knowledgeable receptionists are always at your service, ready to meet your needs, be it to help you book the best of Santorini Day Tours available, make VIP reservations, arrange for private helicopter rides, and more.