Aug 12th, 2021
Top-Tier Santorini Cooking Classes & Food Tours – Details & Options for an Upscale Experience
Santorini has a unique way to fulfill its guests' wishes and provide unforgettable experiences distinguished by luxury, elegance, style, and heart-filling, royal-like moments. So, besides the imposing Caldera and the volcanic beaches, the Cycladic pearl is also overindulging with many Santorini cooking classes and Santorini food tours that blend fine dining endeavors with the secrets of traditional Greek cuisine. Greek food has been renowned as one of the healthiest diets in the world for being largely based around vegetables, fruits, whole grains, fish, non-meat protein sources (i.e., legumes and beans), and, of course, olive oil. Below are some details about such classes and tours, which primarily use local ingredients grown in organic farms across the island.
What to Expect from a Cooking Class or Food Tour in Santorini
Most Santorini cooking classes introduce you to the how's of cooking Santorini signature dishes while spoiling you with crisp volcanic award-winning Santorini wine. Regarding the duration of the guided wine-tasting and Santorini food tours, it could range from a couple of hours and up to half a day (or even more), depending on your preferences and specific needs. Of course, you may choose your tour to be semi-private or private for you and your loved one(s).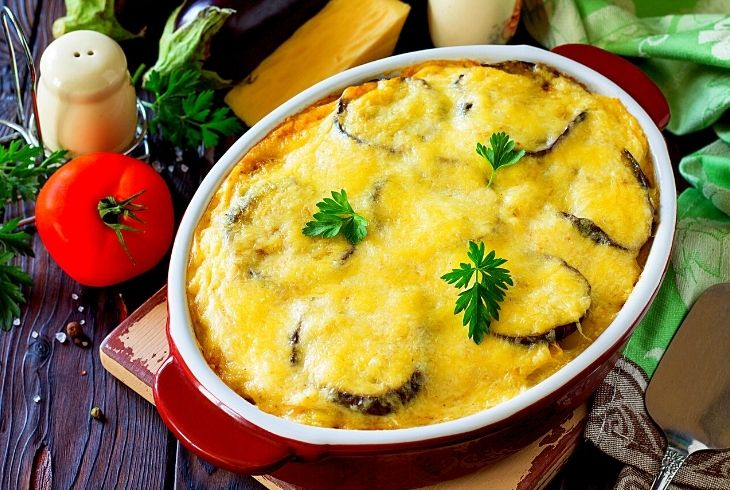 Most of the tours are organized for small groups with a maximum of 6-8 participants to ensure an intimate and personalized experience. This makes them an excellent choice if you want to enrich your Santorini honeymoon as it gives you the opportunity to enjoy a remarkable adventure in a romantic setting while tasting delicious food and palate-caressing wines just before the island pampers you with the idyllic Santorini sunset!
The majority of the Santorini cooking classes offer hotel pickup and drop-off services and include sampling several different types of Santorini wines, such as Vinsanto and Assyrtiko. Also, a local chef teaches you how to prepare a mouth-melting course of several local foods in a fun and interactive way. At the end of your cooking lesson, you can savor your freshly cooked creations while gazing at magnetic views of the Aegean Sea and the Santorini Caldera.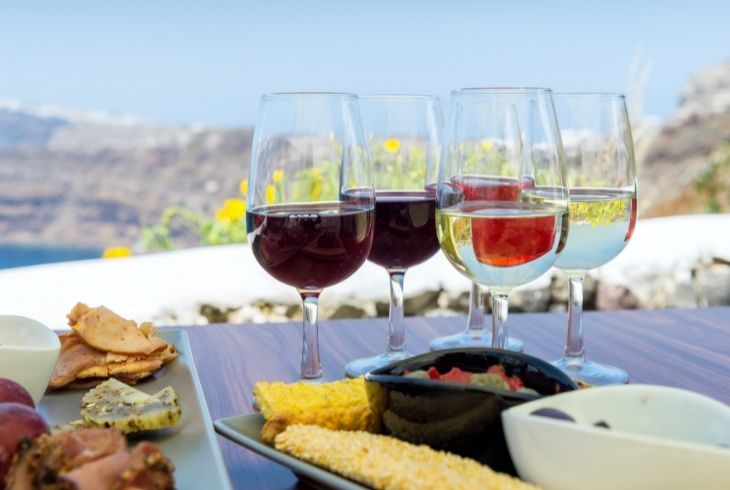 The Form and Shape of the Cooking Classes
There is a wide range of options when it comes to how and where the Santorini cooking classes are delivered. For example, you might be welcomed in an open-air kitchen after the chef has picked up fresh ingredients from the estate's organic groves and kitchen garden.
Other Santorini cooking classes offer garden-to-table experiences. This means that you join the chef in the organic garden and even learn how to choose ready and ripe vegetables, fruits, and herbs. Now, if you love seafood, you could opt for a sea-to-table cooking class that allows you to join the chef in his/her fishing quest and watch him/her prepare quintessential Greek seafood, such as Fisherman's stew, with the catch of the day.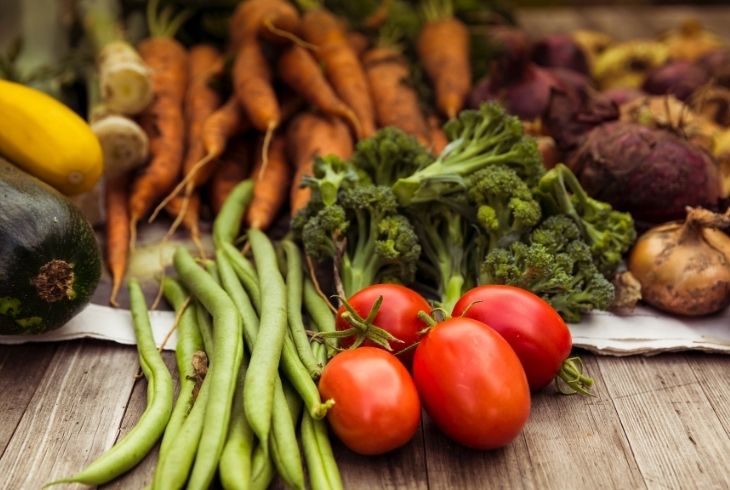 Finally, you may request a totally customized cooking class and give it the flair you want. For example, you could ask the entire lesson to be carried out on the scenic Santorini coastline, like Perissa Beach.
Of course, you may combine a food class with other activities, such as Santorini bike tours, hiking tours, helicopter tours, and cruise tours. In the latter case, the cooking lessons are being delivered aboard a luxury yacht as you sail in the open sea and admire the charms of Santorini from the water.
If you have another requirement, though, do not hesitate to communicate it with the Antoperla luxury hotel in Santorini, and we will help satisfy your demand in the best possible way.
Cooking Classes Menu
The menu in the Santorini cooking classes often changes. However, some of the staples being taught are tomato fritters, which makes sense given that Santorini has a long tradition of a tomato-producing island. So, don't be surprised if you see several different ways to prepare and eat tomatoes (i.e., sun-dried and placed in jars filled with extra virgin olive oil and herbs).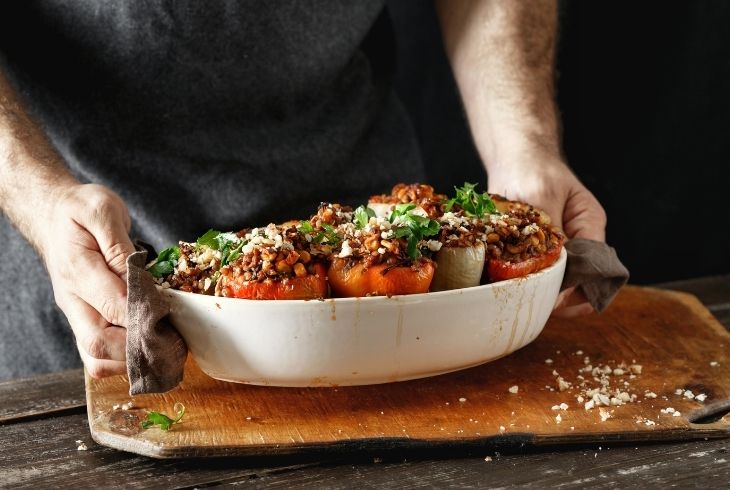 Some of the foods that are usually prepared during the cooking classes are:
• The Santorini version of Greek salad or another salad with local products (i.e., goat cheese, tomatoes, cucumber, olives, capers, oregano, organic olive oil) • Tzatziki spread (Greek yogurt, garlic, cucumber, and organic olive oil) • Santorini signature dish (i.e., lamb chops with onions, tomatoes, herbs, and peppers, stuffed vine leaves, fava, fish with potatoes in spicy sauce, stuffed tomatoes and peppers with rice and spices, etc.) • Homemade dessert (i.e., milk pie, ice cream, spoon dessert)
Of course, whatever you prepare and eat is accompanied by local wine or locally produced alcoholic beverages, such as raki or ouzo, or soft drinks. Also, you could ask for a strictly vegetarian or vegan menu if opting for a private cooking class.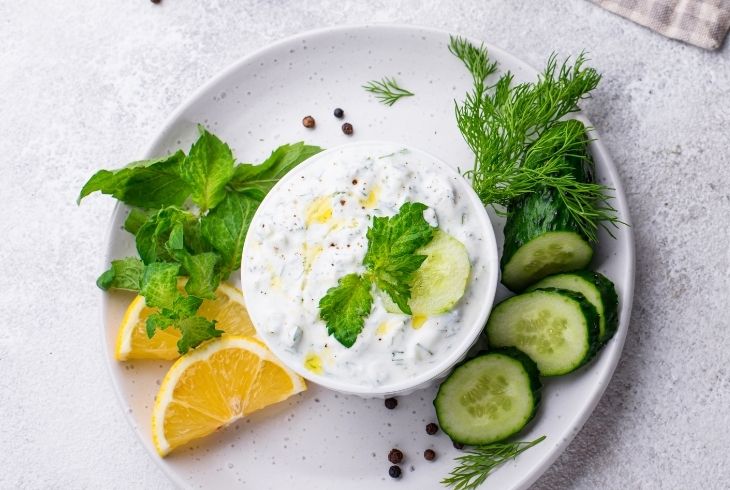 When to visit Santorini
Concerning the best time to visit the island to enjoy the most of a food tour or cooking class, there is actually no "right" time. Every time of the year is ideal for such endeavours. However, it all depends on what you are after. For instance, Santorini in October and September is quieter than in the summer months, which means that you can relish any activity minus the large crowds of the high season.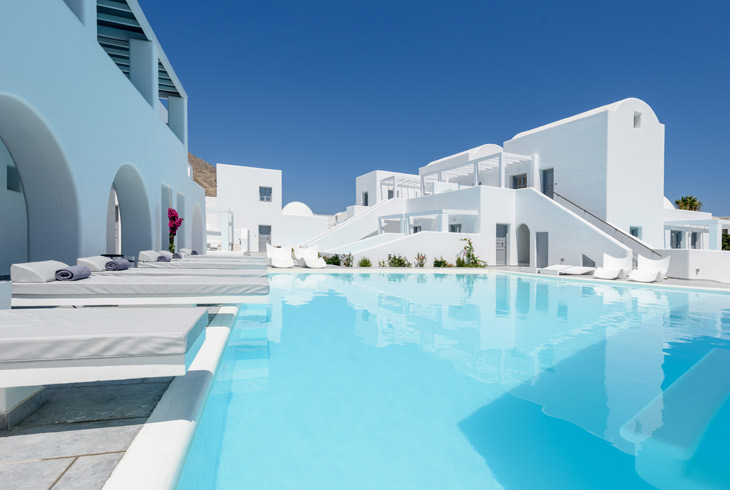 World-class Santorini resorts like Antoperla always strive to meet their guests' needs to ensure a dreamy Santorini holiday getaway. For that reason, please free to share how you have envisioned your Santorini vacations, and we'll work with you to surpass your expectations.