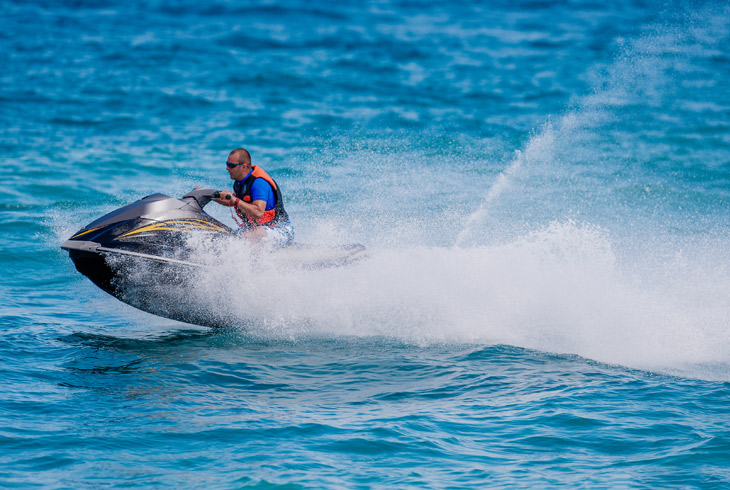 Sep 14th, 2020
Exploring Breathtaking Santorini – 4 Fantastic Santorini Jet Ski Tours
Santorini is, without a doubt, one of the most beautiful and magnetic Cycladic islands worth visiting at least once in a lifetime. And, what better way to explore its enchanting whereabouts than from the cobalt waters that circle the charming island. In this case, a Santorini jet ski tour might be all you need to live a unique experience and soak up the allure of this utterly romantic and mesmerising dot in the Aegean. Time to stop at tranquil and quiet beaches and pamper yourself with incredible views very few people get to see! Here are some ideas you could consider.
Important Note: It is strongly advised to book your Santorini jet ski tour early in advance, especially if visiting the island in the summer months. This is because there is a limited number of time slots between June and September.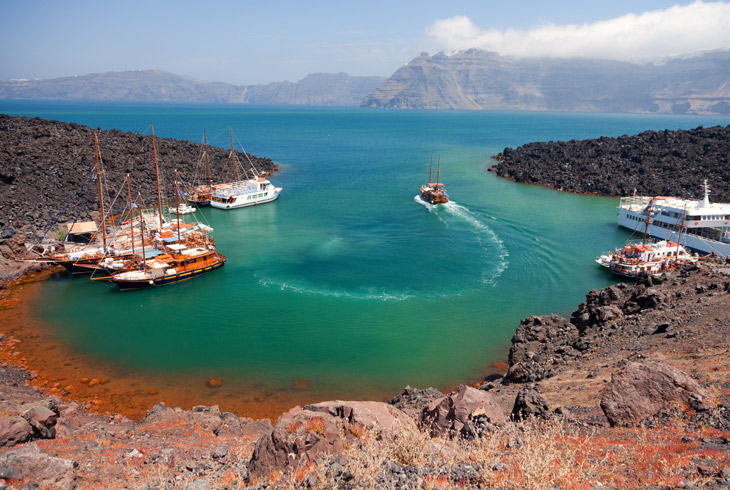 Jet Skiing the Southern Coast
Your Santorini jet ski adventures can start from the enchanting beach of Perivolos and then take a southwestern route. You will soon reach incredible shores, such as Mesa Pigadia, the Red Beach, the White Beach, and Vlyhada. While here, you can stop to discover the rich underwater world or simply take a refreshing dive in the crystalline waters.
Snorkeling and swimming are just some of the activities you can savour while testing your Santorini jet ski skills, always under your instructor's watchful eye (if you book an organised tour). If you prefer to go solo, make sure you choose a jet ski club that will teach you how to operate the jet skis and ensure you know all the needed safety procedures.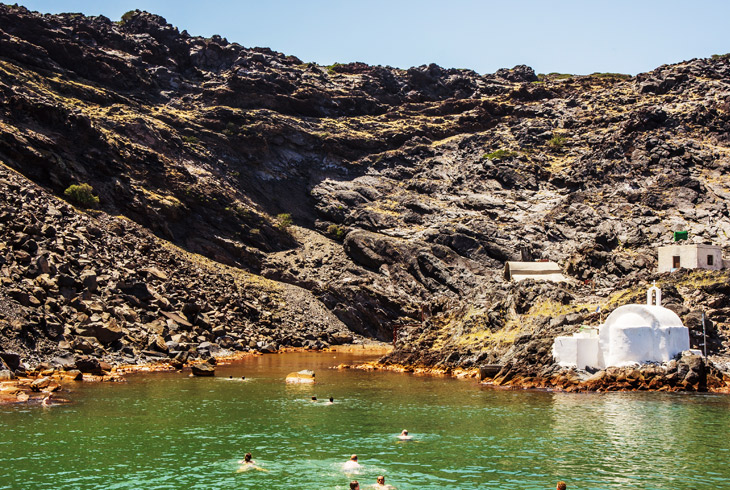 Jet Skiing Nearby Shores
Santorini is adorned with four smaller islands that hide beauties beyond belief. Thirassia, Aspronisi, Palia Kameni, and Nea Kameni all feature beaches made up of white, red, and black lava pebbles and absolutely crystal clear waters. A Santorini jet ski tour around one or more of these little pearls will leave you completely satisfied and rejuvenated.
Note: For private tours and personalised jet ski itineraries, you can seek the assistance of the Antoperla staff, who will make the appropriate recommendations. You can always count on our help! We have proudly earned visitors' respect over the years for providing one of the best guest experiences of all Santorini Hotels.
Jet Skiing the Hypnotising Caldera
One of the major highlights of a Santorini visit is the Caldera. Therefore, a Santorini jet ski tour to the volcanic rim is a must for sure. Now, there are several different options as to what stops such a tour should include. Some visitors just want to see the bare basics. Others are looking for an alternative that is a tad more extreme. Either way, you will get exactly what you ask for if you address a Santorini tour provider.
We suggest you begin your exploration from Antoperla Luxury Hotel in Santorini and then enrich your endeavours according to your needs and requirements. Some of the inclusions worth including in this experience is a visit to Thirassia and, of course, the ravishing White and Red beaches, where you can relish snorkeling, swimming, fishing, and watersports.
Of course, you may also choose to climb up the caldera and treat your eyes with heart-stopping panoramas of the shimmering Aegean Sea.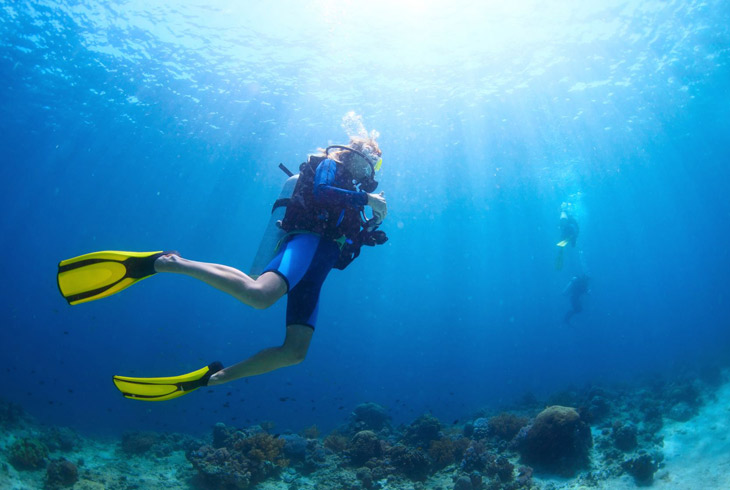 Diving into the Hot Springs
Why not take your jet ski as close to the Caldera as possible to have a swim in the Santorini Hot Springs just before the sun slips behind the horizon? Not only will you give your body a full spa-like treatment thanks to the therapeutic waters of the Hot Springs, but also watch a breathtaking sunset view.
What a feast for your eyes, indeed, and an unbelievably romantic way to end a perfect day! No wonder thousands of couples make a visit to the Caldera a must in their Santorini honeymoon stay. Even if you just walk the narrow, lava-formed paths that lead to the top of the Caldera is an extremely rewarding activity when holidaymaking here.
Before your (admittedly, dreamy) Santorini jet ski tour comes to a closure, you will surely have loaded your holiday pack with unforgettable memories. Do consider visiting Pharos of Akrotiri, Mouzakia Bay, and Armeni Bay – they will leave you in awe with their unique landscape and appeal.
Note: You can ask the friendly receptionist at Antoperla to arrange that your jet ski tour starts from the delightful black-pebbled Perissa beach, which is just a few meters from your room!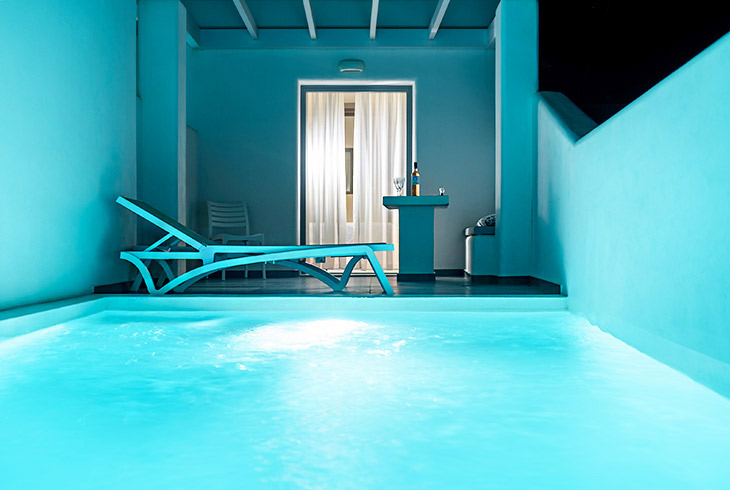 What to expect from a jet ski tour in Santorini
Most jet ski tour operators will have a motorboat accompany the tour the whole way to make sure everything goes clockwise. So, if you, say, get tired and need a break, you can hop on the boat and let a staff member ride your jet ski.
You may also expect a photographer to be taking pictures of your adventures (you get to choose if you want to purchase them or not after the end of the tour). And, it goes without a saying that all tours are guided by licensed professionals and a fully equipped safety boat. Need any additional equipment (i.e., for snorkeling or fishing)? You can always inform the tour guide.
Jet skiing Santorini is a superb way to see places, both popular and less touristy, from a different perspective. The best thing about these tours? The fact that you have a superior room with spectacular views waiting for you to rest and relax. Feel like letting off some more steam after a long day jet skiing the Aegean Sea? Antoperla is one of the very few Santorini hotels with a private pool that gives you the chance to unwind at the privacy of your swimming pool! Enjoy!