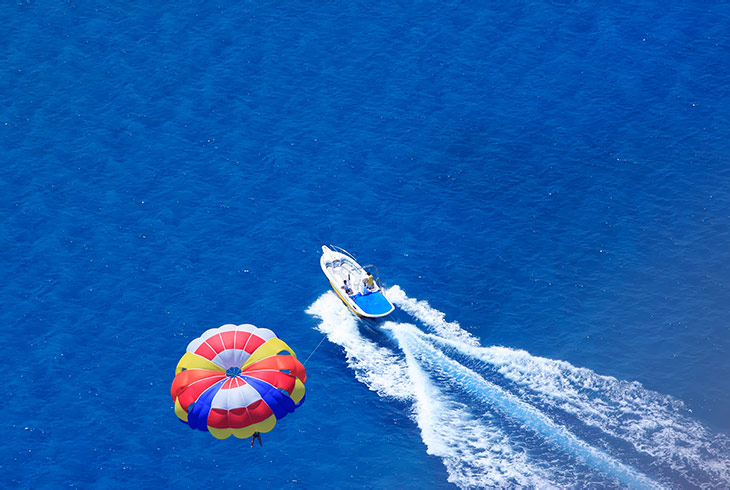 May 15th, 2018
Santorini, Greece for Water Sports Enthusiasts
One of the first sights you might see when you arrive in Santorini, Greece is the vast view of the deep blue Aegean Sea. It's what brings so many people to Santorini for the summer, or even to enjoy summer weather during other seasons of the year.
But the water isn't just there to be seen. Santorini has many benefits for water sports, from snorkeling the unique marine life near Red Beach to jet skiing to parasailing.
Much of it depends on where you stay and the beaches you visit. Here's everything you need to know about Santorini watersports.
What Water Sports Are Available in Santorini?
If you're a watersports enthusiast, Santorini, Greece is the right place to visit. Almost any watersports that can be enjoyed on the beach are available in full force here, including:
JET SKIING. There are several of tours if you want to jet ski in Santorini as well as beaches that accommodate the water sport. Your luxury hotel in Santorini can help coordinate a tour for you.
Enjoy an adventure, exploring the South coast or volcano of Santorini safari style aboard jet skis with a qualified crew. If you'd like to go on your own, there are beach shops where you can buy jet skis.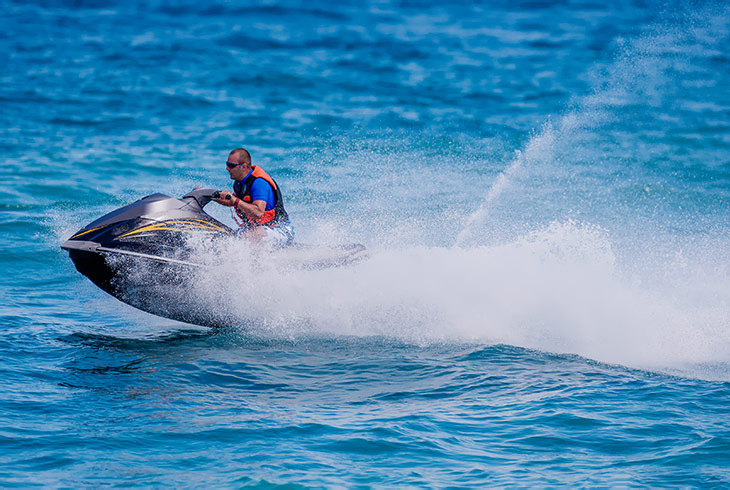 PARASAILING. Parasailing in Santorini can be an exhilarating experience with breathtaking beauty as you soar over the crystal blue waters.
Here you'll float as high as 350 feet above Santorini while trailing along with a boat adapted specifically for parasailing. It's a unique view, and even if you've never parasailed before, it's an experience you won't want to pass up.
SCUBA DIVING and SNORKELING IN SANTORINI. Through dive centers and snorkeling tours, you can find the best places to explore interesting sea life in Santorini, Greece. Ammoudi Bay, Red Beach, and a bay off of Akrotiri all offer shallow waters perfect for snorkeling.
You can also learn to scuba dive, allowing you to explore even more of the Aegean. Santorini is an excellent spot for both amateur and professional scuba divers.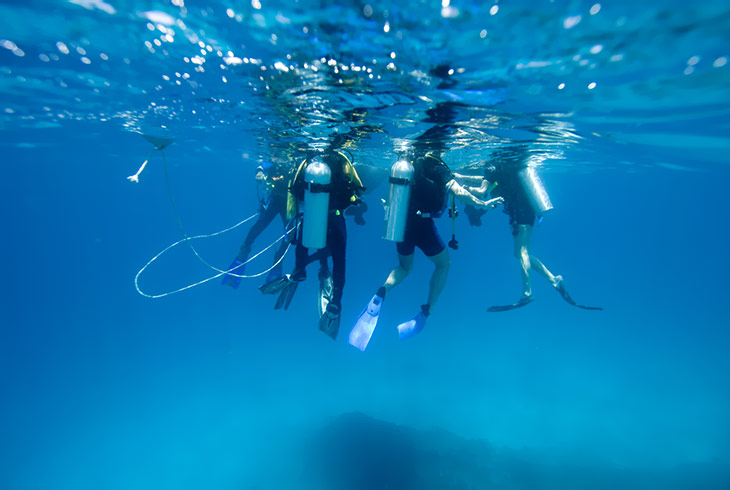 SURFING. Although surfing is one of the most popular water sports, many people don't think of surfing when they come to Santorini, Greece.
The waters throughout most of the island are calm, but the tide can become active enough to provide the right conditions for surfing. Ask locals for popular places to catch the waves.
Where to Find Water Sports in Santorini
Water sports can be found all over the coast of Santorini, Greece. It just depends on what you're interested in playing. Surfing is particularly tricky, because the waves have to be just right. There has to be enough wind for the waves to swell and break.
There are some spots in Vlychada beach where surfing might be possible, as well as Vourvolos Beach, and Pori. Because timing is so critical, you'll want to ask locals not only when to surf but where to surf.
Perivolos and Perissa, Santorini, two popular black sand beaches, are excellent places to find Santorini watersports, from paragliding to jet skiing and possibly even snorkeling. Red Beach is the most exotic location when it comes to snorkeling, and a place where you can find an interesting variety of sea life.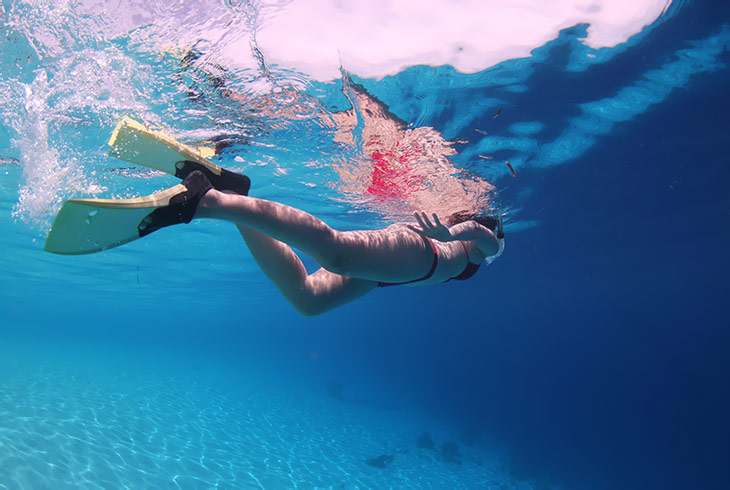 If you want to experience the best of Santorini's water sports, you might take a water sports tour, whether scuba diving, jet skiing, or parasailing. You may even be able to find a semi-private tour so you can experience the exhilaration and fun without the crowds.
Some Santorini luxury hotels, like Antoperla Luxury Hotel & Spa, will help you find and even coordinate these tours for you if you ask.
Where to Stay
If you're a water sports enthusiast, you may enjoy the luxury of being able to go for a swim from your own hotel suite. If that's the case, Santorini hotels with private pool amenities are a must.
At Antoperla, your room is a place to relax at the end of a full day of water sports, but if you're not quite finished with the day, go for a dip in a pool that you won't have to share with anyone but your significant other. Not only are we a Santorini hotel with private pool amenities, but you can expect to get the royal treatment.
If you're a water sports enthusiast, a Santorini, Greece holiday is calling. Book your room at Antoperla in Perissa today.