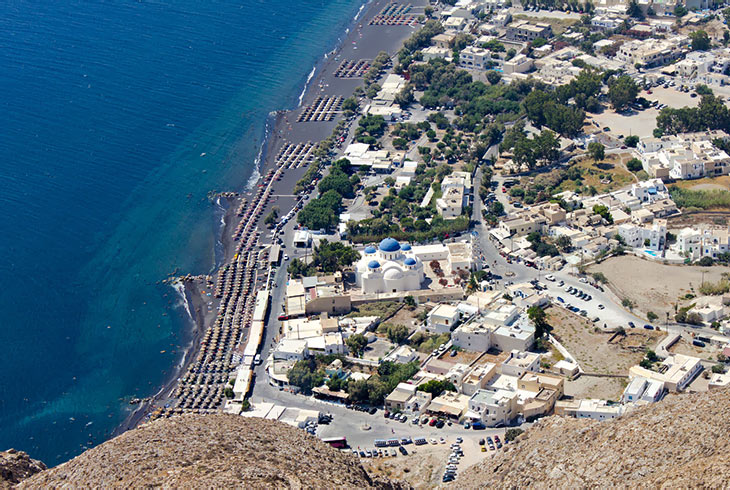 Jun 27th, 2018
The Beautiful Villages of Santorini, Greece - Part I
Throughout most of the world, you can find small towns and busy cities, but the village can be something of a lost art. There's something about a village, naturally beautiful, calming, intimate, that makes a rare find. This doesn't mean there's nothing to do in villages: there are locally owned restaurants and taverns, carefully preserved history, and plenty of local color to enjoy. A village, however, gives you the perfect opportunity to get away from the rat race and just relax.
Santorini, Greece is full of charming, quintessential Cycladic villages. In Santorini villages, you can enjoy a gorgeous landscape and ocean views. You can sip fine Santorini wine from a local taverna, tour both local shops and archaeological sites. Whether you want a night on the town or a picturesque, tranquil day, Santorini villages deliver. Here are just a few villages you can visit during your Santorini, Greece holiday.
Perissa & Perivolos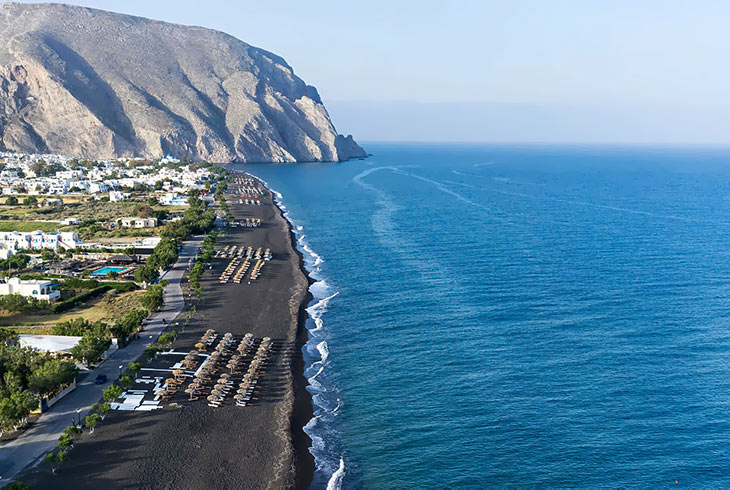 Perissa and Perivolos are technically separate Santorini villages, both the home to popular beaches in Santorini. However, in appearance, the beaches are one long stretch of shore, so the villages are often lumped together. Their cultures during the day are very similar. Both Perissa and Perivolos have terrific tavernas near the beach, and both Perissa and Perivolos are the ideal place to go in Santorini, Greece when searching for water sports. These are major villages, and thus easy to reach by bus. Both Perivolos and Perissa, Santorini are home to many hotels, including Santorini luxury hotels.
However, when the sun goes down, Perivolos sets itself apart as perhaps the party capital of Santorini. There are many clubs in Perivolos that stay open until dawn. On most nights, you can probably even find a party on the beach.
Akrotiri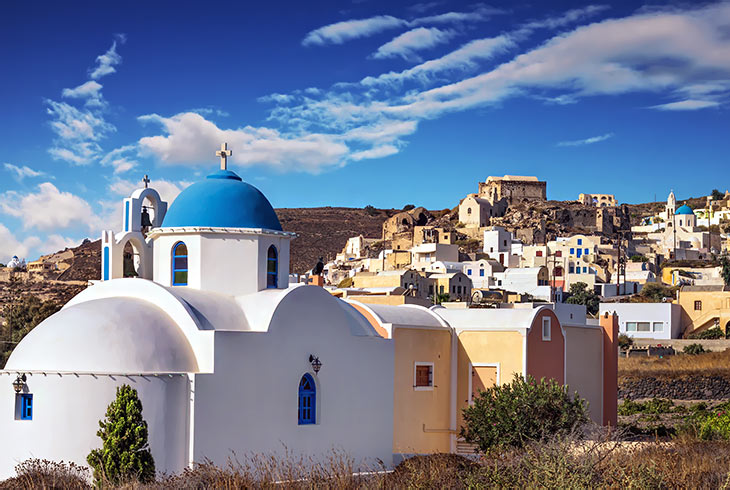 Akrotiri is known for one of two things: many tourists add Akrotiri to their list when they hear about the excavated ancient settlement. In the Minoan Era, Akrotiri was the cultural hub of Santorini. Tragically, amidst a volcanic eruption in the 17th century BC, the city was buried in ash, though the lack of human remains lead archaeologists to believe that it was successfully evacuated before the eruption. In 1967, archaeologists returned to Akrotiri to excavate what could be recovered. Today, visitors of Santorini, Greece can visit the archaeological site and view the frescoes and pottery recovered from this time tens of thousands of years ago.
The second thing that makes Akrotiri stand out amongst Santorini villages is the sunset. Some hold it to be the best sunset view on the island. Unlike Castle Oia, which tends to be crowded and cramped, you can find hidden gems to watch the sun go down in peace and quiet in Akrotiri. One suggestion is the view by the lighthouse of Akrotiri, which is itself a wonder. One of the oldest lighthouses in Greece, it was built by the French in 1892.
Kamari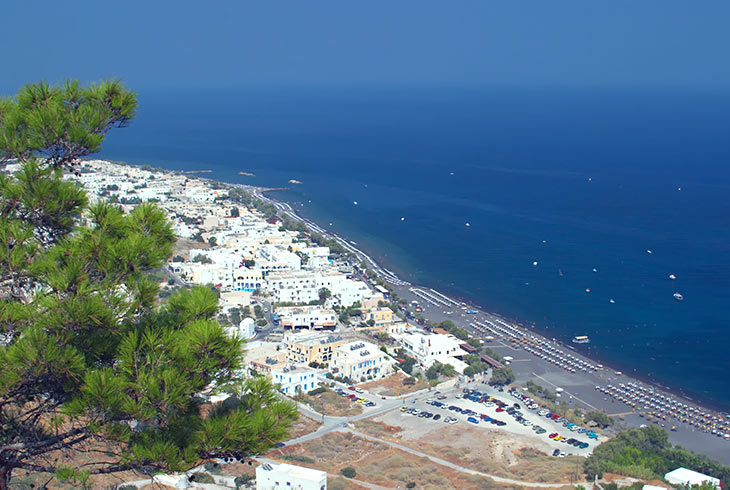 The seaside village of Kamari is separated from Perissa and Perivolos from the stately mountain, Mesa Vouno. Another popular location, and a beautiful beach, it is easily reached by bus or taxi. In addition to the beach, you can find shops and restaurants, local cafes, and lovely outdoor seating options. It's also something of a cultural hub. Here you can listen to traditional Greek music played live by local musicians or go to an outdoor cinema shrouded by trees. In fact, Kamari is the only Santorini village where you can find cinemas.
If you're interested in taking a Santorini wine tour, Kamari is the place to go. Kamari is known to have some of the best wineries and wine museums on the island, especially shoreside. You don't have to visit Megalochori to enjoy Santorini's fine wine samplings.
Pyrgos
Pyrgos is the highest point of Santorini, so not only is this a charming village to visit, but it offers panoramic views of many Santorini villages. It was once a fortress settlement, protected from pirates and Turkish invaders by its high position. It is here where you can find one of the five "kastelia" on the island, named appropriately Kasteli Castle. Near the entrance of the castle is a World War II memorial, a reminder of the citizens of Santorini who died in the war. Pyrgos is an excellent place to see a sample of the architecture to find in Santorini — both traditional whitewashed houses and neoclassical structures. This village is less frequently explored by tourists, making it something of a hidden gem with untouched local color in Santorini.
Where to Stay
As mentioned above, Perissa and Perivolos are popular places to stay in Santorini, especially when searching for luxury. But what is a Santorini luxury hotel to you? If you picture Santorini hotels with private pool amenities, book a room with Antoperla Luxury Hotel & Spa. With private pool amenities and spa amenities, as well as a variety of luxury rooms and suites, you can relax in comfort after exploring the characteristic villages in Santorini.
Stay tuned to learn about even more Santorini villages to visit this summer.