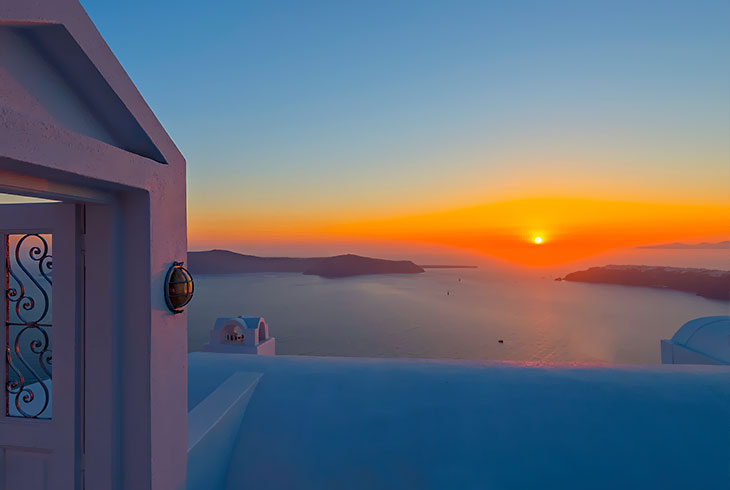 Jul 03rd, 2019
The Beautiful Villages of Santorini, Greece - Part II
In our last blog post, we introduced Santorini villages with rich ancient history, beautiful beaches and sunsets, and delicious wineries. While the word "village" might evoke a picture of a quiet landscape full of traditional houses and stone paved streets, it would be a mistake to assume that all Santorini villages are quiet and calm.
In fact, as much as Santorini, Greece is known for its beautiful beaches and staggering sunsets, it's also known for an exciting nightlife and exhilarating day tours. You can find these experiences throughout Santorini, but especially in the capital, Fira, as well as the Santorini villages of Firostefani and Oia.
Fira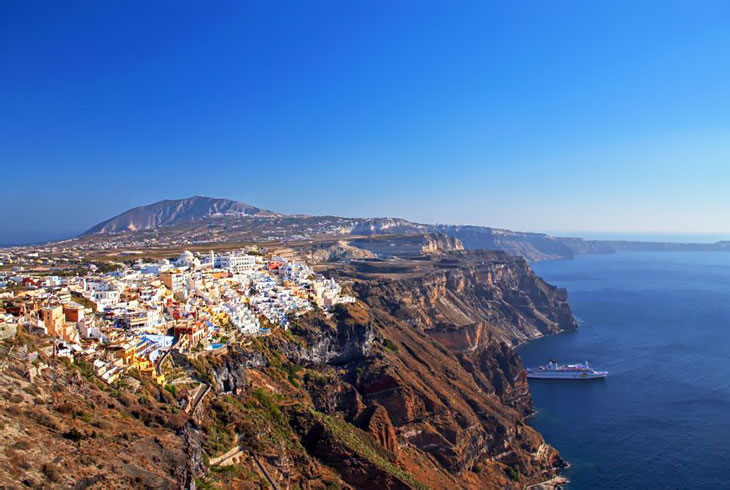 Fira is the capital of Santorini, Greece. Less than 5 square miles in size, it is nevertheless the largest village and the cultural hub of this 29 square mile island. It can be found in western Santorini, and faces the two volcanic islands, Palea Kammeni and Nea Kammeni. This is also where the main port can be found, so if you plan to take a day trip to nearby islands, you'll likely have to visit Fira at some point. Most public transportation is centered here, so it's easier to go to and from Fira when staying in a Santorini luxury hotel in Perissa.
Santorini enthusiasts will tell you that Fira is where you'll find all the action. While you can certainly find a thrilling scene in Perissa and Perivolos, Fira tends to be at the center of things. There are numerous shops, restaurants, and cafes where you can enjoy a full day out or pick up some souvenirs for your friends and family back home.
Famous museums are located here, such as The Archaeological Museum of Prehistoric Thera and the Museum of Prehistoric Thera. You can also find the Megaro Gyzi Cultural Center in Fira. However, Fira is known throughout Santorini, Greece and in fact throughout Europe, for its colorful nightlife. The island is peppered with bars, cafes, and nightclubs where you can drink, dance, and listen to music until dawn.
That's not to say that Fira is all metropolitan and lacks the natural beauty of smaller villages. In fact, Fira has one of the most breathtaking sights on the island — that of the Santorini caldera. While Oia and Firostefani share this view, Fira's position at the edge of the caldera offers a unique, extended view of the natural wonder.
Firostefani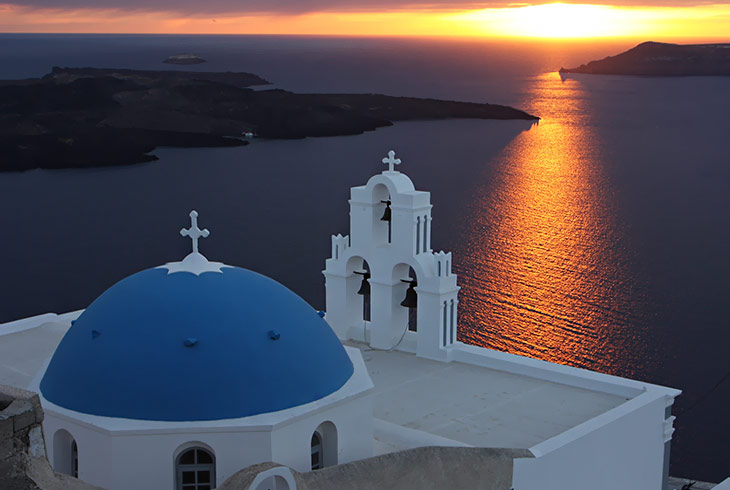 Firostefani is just to the north of Fira, so close that it's often lumped in along with Fira. This village also offers splendid caldera views, as well as views of the volcano. Many of the restaurants and cafes in the area take advantage of these views, while the shops tend to be on the main street of Firostefani.
Though the architecture is traditional here as elsewhere in Santorini, Greece, you can also find charming, brightly colored houses here. The blue domed churches that are so often featured in travel photos can also be found in Firostefani. Firostefani is an excellent stop for someone who wants the views and some of the culture of Fira without getting too caught up in the crowds of Fira.
Oia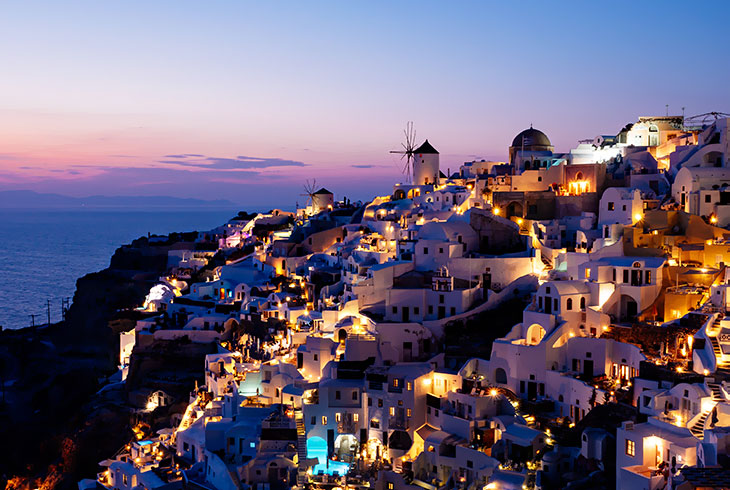 Oia, pronounced Ia, is home to the old port of Santorini, Greece, Ammoudi Bay. So it's no surprise that you can find the Maritime Museum here along with beautiful ocean views. It's known for one of the best sunset views — rivaled only, possibly, by Akrotiri — viewed best from the Venetian Castle Oia. Here the streets are narrow and the architecture all around you feels like a fresh breath of bygone centuries. You can find even more of the popular blue domed churches here.
Picturesque views make Oia popular with artists, so many artists visit this area to paint or get the perfect photos. It's known to be quieter and calmer than Fira, but not without activity. There are still plenty of shops and restaurants, as well as more art galleries than can be found in many of the other individual Santorini villages. Oia is another village where you can enjoy a Santorini wine tour.
You can find Santorini luxury hotels in any of these villages, but if you're looking for the perfect Santorini hotels with private pool amenities, the right place is still Perissa, Santorini and Antoperla Luxury Hotel & Spa. There are many Santorini villages to see, and you'll want to be able to relax in luxury at the end of a long day of exploring. Not only do we have private pool amenities, but many of our rooms have private jacuzzi as well as spa treatments.
Book your room at Antoperla today and start your itinerary of beautiful villages of Santorini that you want to see.