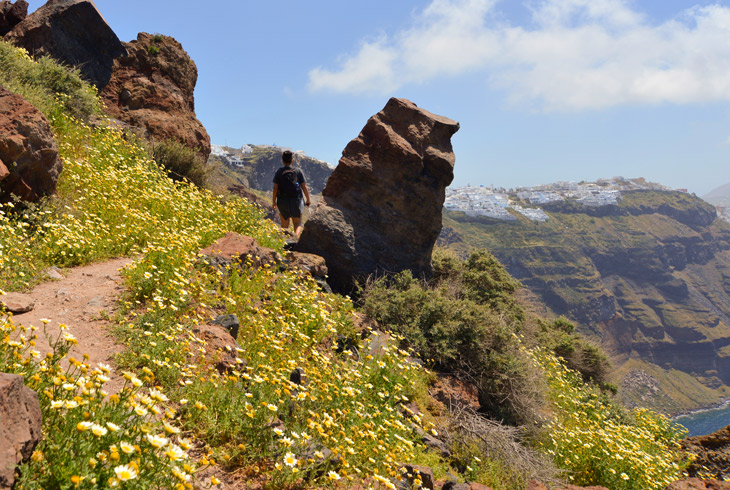 Oct 31st, 2019
Santorini Walking Tours – Capturing the Spellbinding Essence of Santorini
From imposing monasteries and picturesque villages to ancient ruins, heart-stopping sunset views, and beaches with black and red sand, Santorini has it all. This gives way to a plethora of Santorini walking tours; each one unveiling a different side of the beautiful island. Here are the top Santorini tours you could try on foot with your loves one(s) or friends.
1. Sightseeing Tour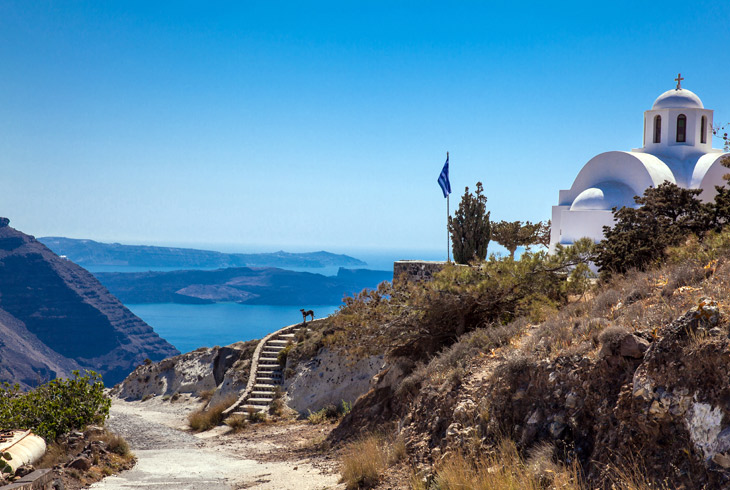 Start your Santorini walking tours with a visit to the glorious Prophet Elias Monastery, one of the oldest on the island, sitting atop Mount Prophitis Ilias, just 3km from the highest settlement of Santorini, that of Pyrgos village, some 565m above sea level. The fortress-looking monastery was built in 1711 and was then a significant educational and cultural center with a remarkable charity work. Besides its impressive bell tower, you may also see the four other churches that surround the monastery – Agia Triada, Hypapante, Agios ioannis, and Agioi Konstantinos and Eleni. The views from up there are simply amazing!
Then, head to the village that is included in almost all Santorini walking tours for its charm and Instagram-perfect looks, Pyrgos village - once the capital of the island. The Icon and Relics Collection and the Folklore and Ecclesiastical Museum are definitely worth visiting, displaying from rare religious documents and unique holy relics to impressive works of art dating back to the 17th century.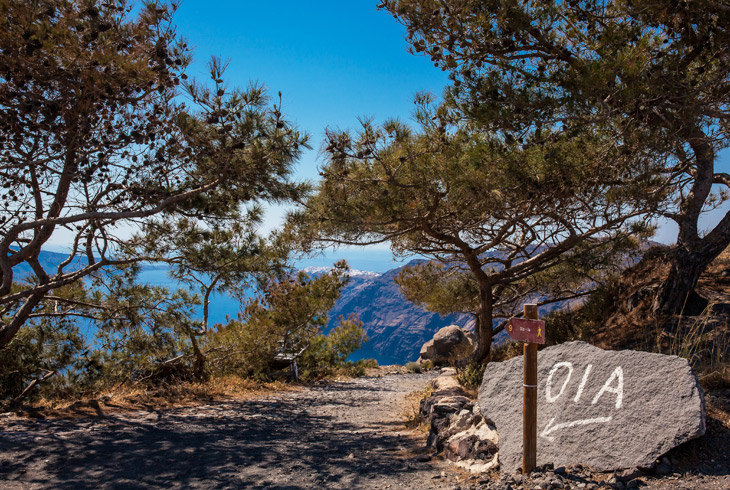 Next stop could be Akrotiri Excavations, an important archaeological site. Before the major volcano eruption of 1956, it was inhabited by hundreds of families. Today, you will find it perfectly preserved under the lava. While there, you may want to step foot on the Red Beach – one of the most bizarrely beautiful beaches in Santorini with dazzling, colourful mountainous formations - or, alternatively, have a refreshing cup of coffee or delicious lunch at Akrotiri Bay – the Greek traditional treats (called mezedes) there are out of this world! Of course, no Santorini walking tours could end without a stop at Fira, the beating heart of Santorini. Stroll around its cobbled streets, see the Hot Springs (the active crater warms their sea waters!), enjoy the breathtaking vistas of the Caldera, and taste mouth-watering local cuisine before you witness the world's most magnificent and romantic sunset at Oia village.
Note: You may also choose to have Santorini private tours, created to meet your specific needs. All luxury hotels in Santorini Greece that respect themselves and have a strong guest-centric policy, Antoperla included, of course, will be more than happy to make all the necessary arrangements for you.
2. Wine Tasting Tour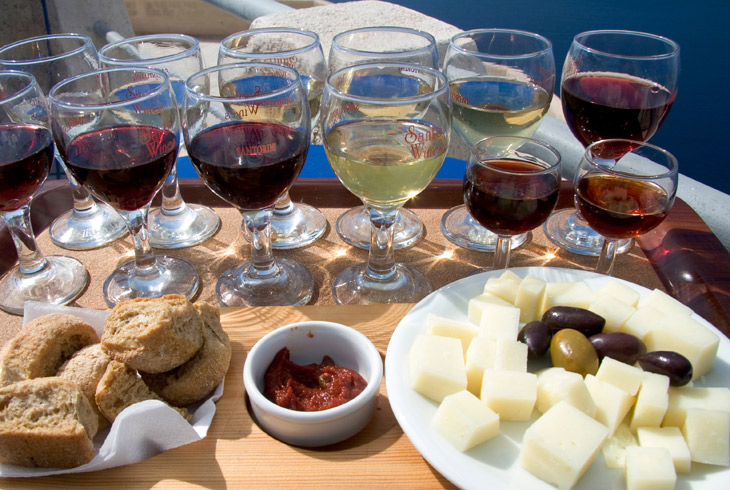 This is definitely one of the top Santorini tours to consider, given that the island is notorious for its winemaking (a tradition going back some 3000 years) and the many different wine styles. Stroll through some of the most famous vineyards on the black volcanic soils and traditional wineries and cellars to experience unique viticulture traditions while being introduced to the history behind Santorini winemaking. In most cases, the friendly locals will also treat you with assortments of local snacks and cheeses that should not be missed! Don't leave the island without having tasted Vinsanto, Nykteri, and Assyrtiko wine styles.
Note: You may ask for Santorini luxury hotels pick-up services to be included in the tour. Just inform the friendly receptionists at Antoperla about your wish, and they will have everything perfectly organised for you.
3. Food Tour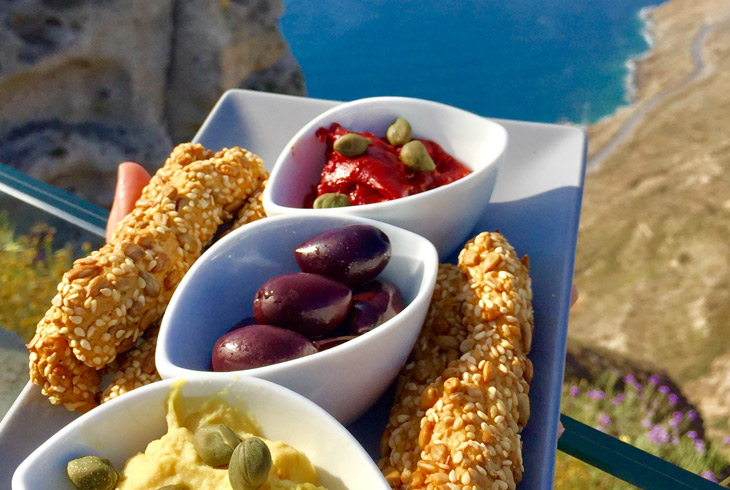 Who said that Santorini walking tours are all about sightseeing! With so many appetizing flavours and succulent dishes, it is impossible not to consider a food tour one of the top Santorini tours you can possibly have! From local honey, souvlaki, and gyros to loukoumades (Greek version of doughnuts) and quintessential Greek street food, you will certainly have a lot on your plate. Everything is prepared with extra love and organic ingredients, including extra virgin olive oil. Some of the places you could start are Fira, Oia, and Firostefani village, each also providing fantastic panoramas of the Aegean Sea. The hospitable islanders, from the local farmers and honey producers to tavern owners and souvlaki grillers will be more than happy to share a round of ouzo with you, guide you through your Santorini walking tours, and pass on their knowledge about the local produce!
Accommodation Options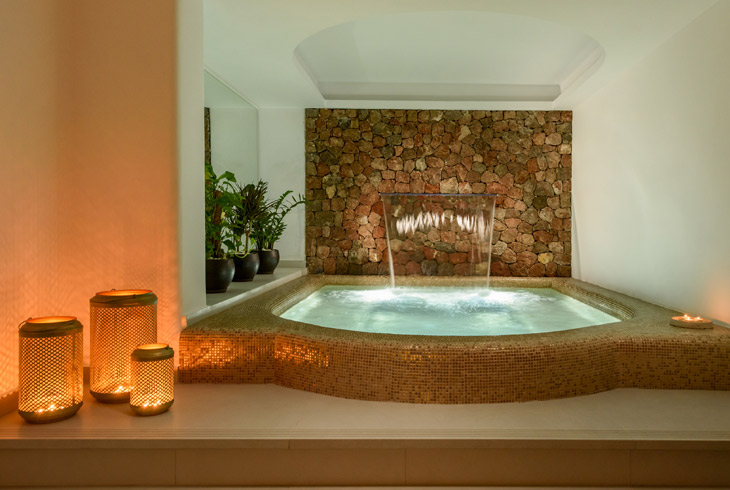 Antoperla is one of the most exclusive Santorini hotels with private pool and all the modern amenities required for a VIP stay. Our sole focus is on meeting our guests' particular requirements with top of the line services. These include arranging top Santorini tours, private yoga sessions, luxury transportation with helicopter rides, and more.