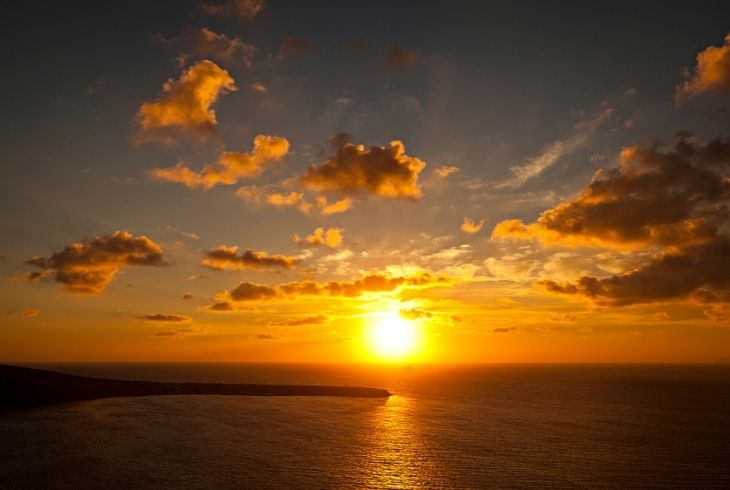 Nov 01st, 2021
2 Fantastic Ways to Enjoy a Day Trip from Santorini to Naxos
Visiting Santorini enables you to get a first sweet taste of the beauties tied to a Greek island, particularly one that belongs to the Cyclades complex, which is internationally famed and beloved for its unique architecture, marvellous beaches, azure waters, and heart-stopping views of the Mediterranean.
Santorini takes all this allure one step forward as it welcomes guests with a rocky terrain shaped by intense volcanic activity, and features like cave houses, amazing sunset views, volcanic sand beaches, Old-World charm, and a crystalline sea loaded with aquatic wonders not seen elsewhere.
Of course, the same appeal is found to the other Cyclades islands, with Naxos being one of the most visited and favoured destinations. No wonder thousands of tourists refuse to leave the Queen of the Cyclades without first opting for a day trip from Santorini to Naxos.
If you find yourself being depicted along these lines, then this guide will excite you. Below, you will find the two most convenient options to reach Naxos, including a private and exclusive alternative to fulfil your wish for a dreamy day trip from Santorini to Naxos!
Option #1: Hop on the ferry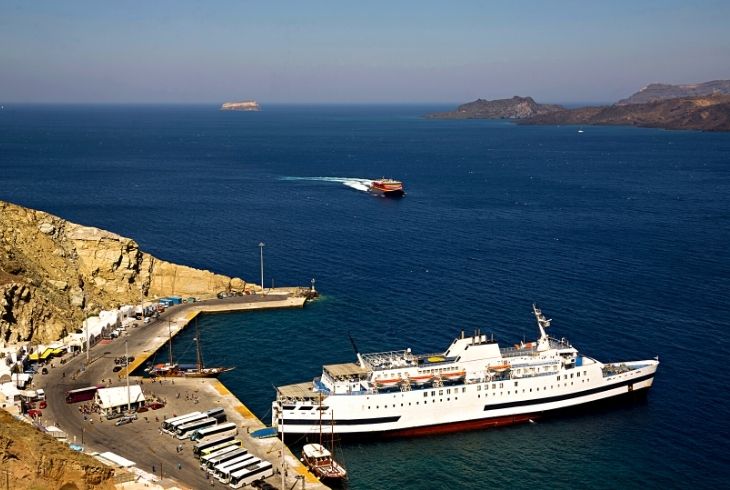 In the busy summer months, you will have plenty of choices to get to Naxos. There are frequent daily ferries that depart from Athinios Port from as early as 6:45am until around 3:30pm. Depending on the ferry you book, the length of the ride ranges from 1 hour with a high-speed catamaran (i.e., SeaJets) and may stretch to 3 hours during high season (this refers to indirect trips that stop at various other Cyclades islands, such as Amorgos). However, the average duration of the ferry ride is approximately 1.5 hours.
Once there, your fascinating day trip from Santorini to Naxos can start with renting a vehicle or motorbike or booking a Naxos tour so you can get around the island per your needs and likes. Please note that it's best to have pre-booked your ferry ticket, car rental and tour as the available spots are quickly filled in the summertime.
Tip: You can visit Ferryhopper.com for the most updated information regarded the itineraries, departures, arrivals, and length ride of the available ferries at the time you want to travel to Naxos. Or contact Antoperla Santorini luxury hotel to help you make the needed arrangements. We are always more than happy to assist our guests live their dream Santorini holidays!
Option #2: Private Luxury Sailing Cruise
If you wish for more privacy, comfort, and endeavours cut to your particular requirements, then renting a private cruise is probably an exceptional option. Most available tours use luxury catamarans and elegant yachts and give you much more freedom in regards to the departure and arrival time.
Your English-speaking captain and experienced crew will get you safely to Naxos as you enjoy the pristine views of the shimmering sea and treat your palate with delicious Greek BBQ flavours prepared on the spot, such as grilled chicken, seafood dishes, and more.
And, if you feel like adding to the adventure, you could even include activities like snorkelling or a share a romantic dinner featuring heart-stopping sunset views on your way back to Santorini, with local wines and mouth-watering Greek cuisine. The overall experience can only compare to the utmost pampering you get from Santorini hotels with a private pool and other exclusive amenities and services like Antoperla!
Most iconic landmarks in Naxos – What to do and see (depending on the available time)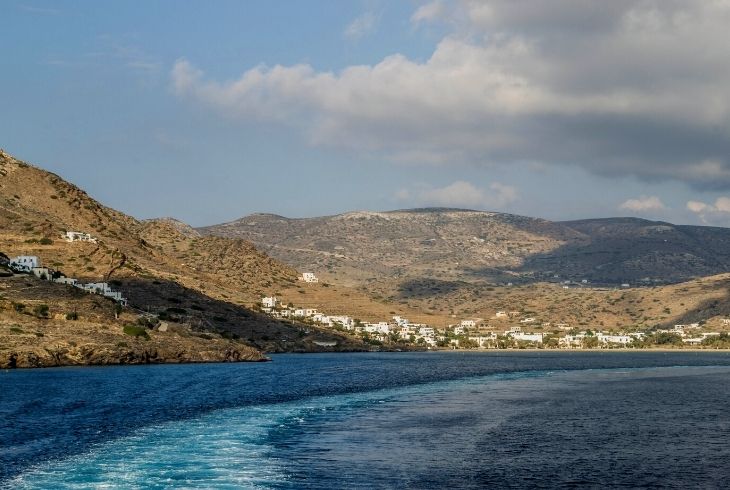 As with every Cyclades Island, the capital (called The Chora on all islands of this complex) is a must-stop site. Its waterfront is lined with shops, restaurants, and cafes offering wonderful views of the port. The infamous Portara (the marble remains of an unfinished 6th-century Apollo temple) is also a landmark near The Chora you cannot afford to leave Naxos without seeing. As for the inland, feel free to scroll the paved alleys and admire charming whitewashed houses, lovely Cycladic architecture, stylish Venetian house, an imposing castle, and several museums.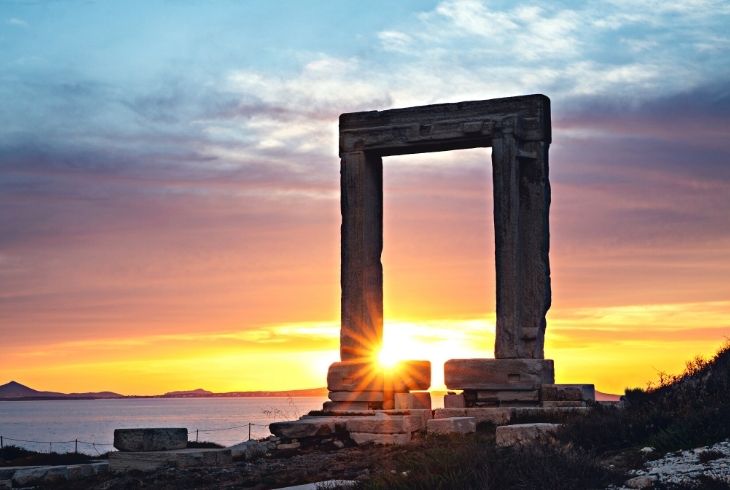 As for the Naxos shores waiting to greet you with sugary sand and crystal-clear waters, the closest to the island capital are Agios Georgios and Agiassos beach. A bit further off are the charming shores of:
Pyrgaki
Kastraki
Mikri Vigla
Plaka
Aggia Anna
Agios Prokopios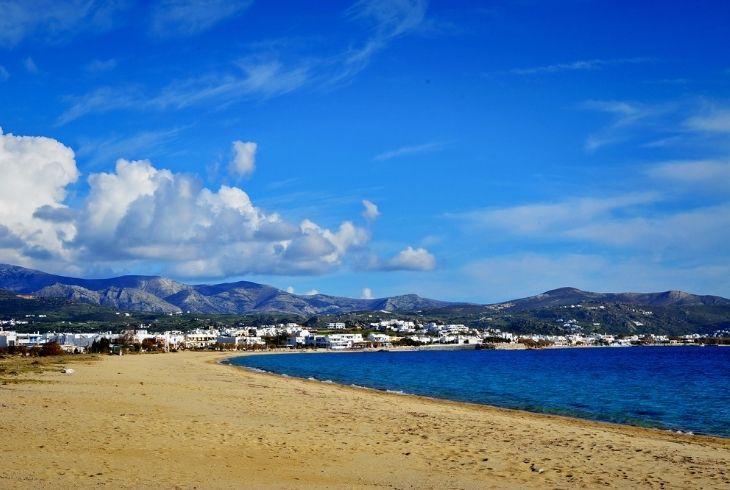 Most of them are organised with deckchairs and umbrellas while some of them even have a private part. Be prepared to be dazzled by the landscape and the many opportunities for water sports, such as kite surfing, if you have the time.
Speaking of time, if you can spend more than 3-5 hours at Naxos, then you may want to head to other popular sites, such as the picturesque Halki village (in the Tragea Valley area) at the heart of Naxos, where you can also taste the popular locally produced alcoholic beverage– Kitron liquor.
The same goes to Vivlos village, Filoti village, Mount Zeus (Zeus' acclaimed birthplace according to Greek mythology), and, of course, the Kouros (massive marble statues depicting God Apollon, dating back to the 7th century BC).
Enjoy!