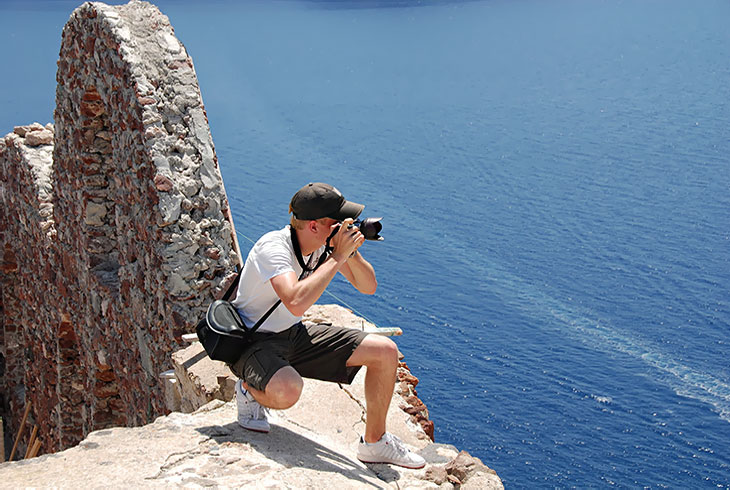 Jun 15th, 2018
5 Splendid Castles to See in Santorini, Greece
Santorini, Greece is a place of famous beauty, from the beaches and crystal blue waters to the lush wine country. The architecture is also known for its impressive looks. Most of the buildings you see are built in the traditional Cycladic style or have influences from other historic periods in Santorini's history. But some of the most splendid pieces of architecture you'll find in Santorini are certainly the castles.
There are five castles in Santorini that you'll want to visit when you're here. You can work with your Santorini luxury hotel to book a guided tour that will allow you to see them all, or find them on a self-driven adventure. Here's what you'll want to look for:
Pyrgos
Pyrgos is the highest positioned village in Santorini, which gives Pyrgos castle one of the best views of Santorini castles. It was built by Venetian invaders to protect them from pirates in the Middle Ages. There were also stealthy passageways that ran underground, giving occupants of the castle a chance to escape in case the walls were penetrated. The church of Agios Georgios replaced a tall Goulas tower that was once the observatory of the castle.
Centuries passed, and Pyrgos castle suffered a devastating earthquake in 1956 which shook and damaged much of its structure. Some of the buildings were taken down, but much of the castle still remains to be seen in all their glory by visitors. You can see the remaining two churches inside of Pyrgos, Koimisis of Theotokou and Eisodion of Theotokou or enjoy the panoramic view of Santorini, Greece from the castle.
Oia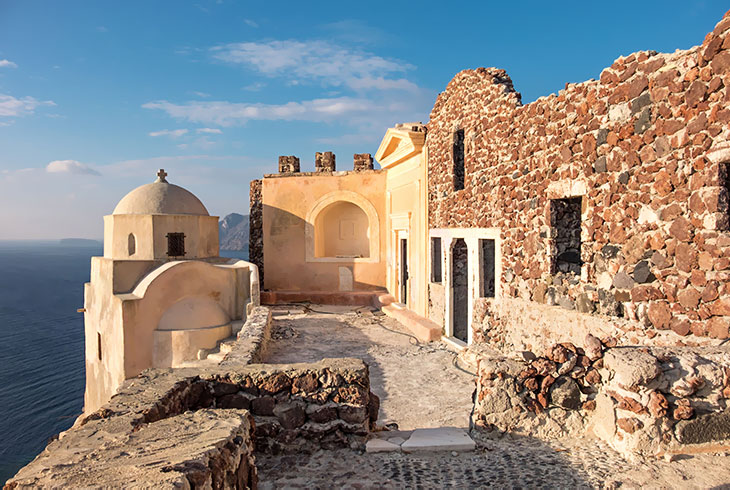 Oia Castle has similar beginnings to that of Pyrgos castle and many other Santorini castles. It was built by Venetian invaders as a protection against pirates. It's position near the old port and the caldera was ideal for trade. Small towers were also built along the wall so those within the castle could know of the pirates' arrival before they did. They also hid valuables in small holes at the side of the castle so that in case the worst happened, their best would not be taken from them.
Today, Oia Castle has a different purpose: mainly, it serves as the perfect perch to watch the sun set over Santorini, said to be the most beautiful sunset in the world. It's perfect for a picnic with loved ones or simply a solo photography trip.
Skaros (Imerovigli)
The ruins of Skaros castle are located atop Skaros rock in Imerovigli, but they can be seen even from Fira. All that remains now are ruins, but archaeologists believe there were likely even two castles atop Skaros rock, and that Skaros was once a thriving civilization.
ts position was essentially impregnable from pirate attacks, but unfortunately, it also cut the people off from necessary food and resources, and it was gradually abandoned. Today from the perch of Skaros Rock, you can look out over the island and even the beaches of Santorini. There are also vineyards near here, so you can easily visit this castle after a Santorini wine tour.
Akrotiri (La Ponta)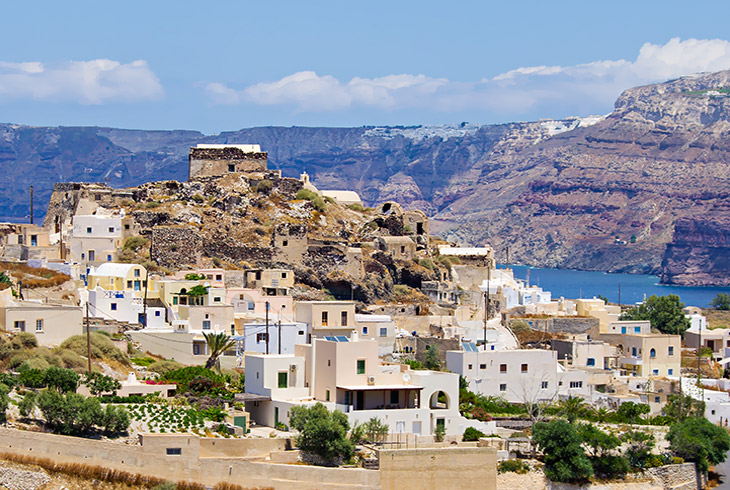 Akrotiri is another ancient settlement in Santorini, Greece that was abandoned in time, but for a very different reason. In Akrotiri's case, the village was evacuated before a volcanic eruption buried it in ash. It was centuries later that archaeologists began to excavate Akrotiri and open it back up to be explored by tourists.
Among those excavations was found the castle of Akrotiri, also called La Ponta, the Latin term for "peak." It was built as early as the first century of Venetian occupation with a tall Goulas in the center that protected it even through part of the Ottoman occupation. It stood through the volcanic eruption and remained in stately shape until the relatively recent earthquake in 1956. Today, while shaken, much of the structure still stands to be seen.
Emporio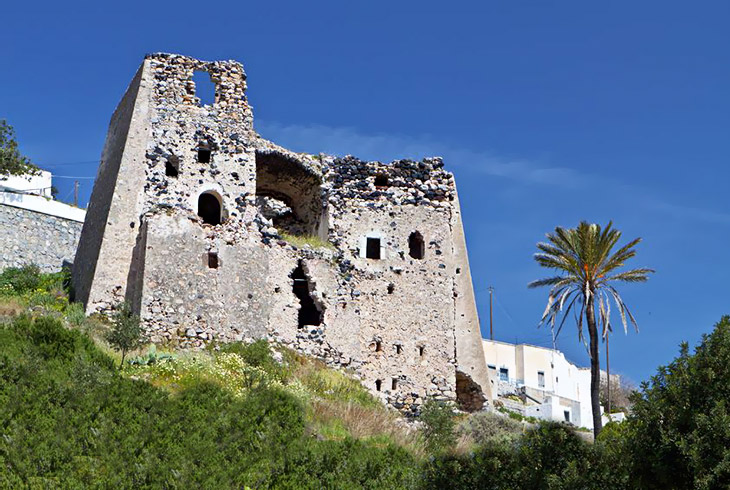 Emporio castle guarded the largest village in Santorini, Greece. It's known for labyrinthine streets and it's stunning architecture. Out of all the Santorini castles, it is Emporio that has been the most carefully maintained and stood the test of time.There are several historic churches inside, as well as traditional houses and tall goulas.
Looking for Santorini luxury hotels? Perhaps Santorini hotels with private pool amenities could greet you after a long day of touring the castles of Santorini. Antoperla Luxury Hotel & Spa has all that and more. We can even help with your itinerary by coordinating a tour of Santorini's castles.
Your vacation should be a time to relax and feel pampered. That's what we offer here. Book your room today with Antoperla in Perissa, Santorini.